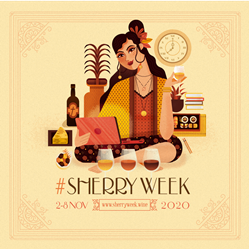 NEW YORK (PRWEB) October 22, 2020
International Sherry Week (http://www.sherry.wine), the largest celebration of fortified wines from Southern Spain in the world, will take place between November 2 - 8 with a variety of virtual activities. Like many international events affected by the COVID-19 pandemic, the seventh Sherry Week has adapted its program to current circumstances. This year, the D.O. of Jerez-Xeres-Sherry and Manzanilla will bring the party to the Sherry community at home, teaming up with professionals who love to talk, drink, cook and shake with these uniquely versatile wines, from world-renowned chefs and sommeliers to passionate Sherry educators.
The international Sherry community can look forward to a series of virtual events from all over the world including masterclasses, interviews, cooking classes, podcasts and online tastings:
Sherry O'Clock on Instagram Live
Monday, November 2 – Friday, November 6
Sherry O'Clock will be streamed live on Sherry Wines Instagram (http://www.instagram.com/sherrywinesjerez), every evening from Monday to Friday, at 2 p.m. ET.
It will be hosted by producers, sherry educators, sommeliers and mixologists from all over the world, with a focus on a different style of Sherry Wine each day:
Manzanilla Monday
Amontillado Tuesday
Palo Cortado Wednesday
Cream Thursday
Fino Friday
Virtual Book Launch: Beltrán Domecq Sherry Uncovered, 2nd edition
Monday, November 2, 3:30 p.m. - 4:30 p.m. ET
Registration Link - https://zoom.us/webinar/register/WN_rwqVmoiBQKiN9JRYrrZJ_w
Presented by Master of Wine Sara Jane Evans, join one of the world's leading experts in Sherry Wines and former President of the Sherry Regulatory Board Beltran Domecq as he uncovers Sherry, sharing new insights on its future in the 2nd edition release of his highly acclaimed book. This will be streamed via Zoom.
Ferran Centelles: Tasting of Amontillado Sherries (In Spanish)
Monday, 2 November, 12 p.m. ET
Registration Link - https://zoom.us/webinar/register/WN_-DjTXNBTTnCWhXFoNxncHA
A collaborator of Jancis Robinson and Drink Director of ElBullí Foundation, sommelier Ferran Centelles will taste four Amontillado/Fino-Amontillado Sherries.
Old Stuff v New Stuff Sherry Tasting
Tuesday 3 November, 3:30 ET
Streaming live on - https://www.facebook.com/SherryWinesJerez
Ruben Luyten of Sherry Notes will be joined by Cesar Saldaña, Sarah Jane Evans MW and Ferran Centelles to compare three extremely rare old bottle-aged Sherries, carefully sourced for the occasion, against three recently bottled wines.
Sherry Pairing World Dinner Party – 4 Continents in 24 Hours
Wednesday, November 4, 6 p.m. ET
Registration Link - https://zoom.us/webinar/register/WN_6IGpt-gVSoyY-Ntyn1CNUw
This event will take place in China, Australia, the UK, Spain and the USA, over the space of 24 hours. One restaurant in each country will offer a Sherry-pairing meal, for Sherry lovers to enjoy in the comfort of their own home. A Sherry wine will be chosen to match each dish, and a sommelier or winemaker from Jerez will explain why Sherry is the perfect pairing.
In the US, a three-course meal paired with Sherry wines will be presented virtually from Estadio restaurant in Washington DC. It will be broadcast live via Zoom.
Sommelier's Guide to Sherry with Josep Roca & Cesar Saldaña (In Spanish)
Thursday, November 5, 5 a.m. ET
Registration Link - https://zoom.us/webinar/register/WN_3eFfslHkTYioUK8P4TdwXw
The co-owner and sommelier of the Celler de Can Roca, twice voted the World's Best Restaurant, along with César Saldaña, president of the Consejo Regulador, will present a live Guide to Sherry webinar for sommeliers. This will be offered in Spanish on Zoom. Pre-registration is required.
Six Years of Celebrations:
Since its first edition in 2014, Sherry Week has grown steadily with more than 12,000 events registered, in countries such as Argentina, Australia, Austria, Belgium, Bolivia, Brazil, Canada, Chile, China, Colombia, Czech Republic, Denmark, Dominican Republic, Ecuador, France, Germany, Gibraltar, Greece, Hong Kong, Hungary, Ireland, Israel, Japan, Mexico, Netherlands, New Zealand, Norway, Poland, Peru, Russia, South Africa, South Korea, Spain, Sweden, Switzerland, Taiwan, Ukraine, the United Kingdom, and the USA.
Sherry aficionados the world over are more committed than ever to learning about their favorite fortified wines, as well as introducing friends to the delights of these most versatile wines.
For media enquiries relating to the Consejo Regulador Jerez-Xérès-Sherry, contact:
Email events@sherry.wine
Website http://www.sherry.wine
Facebook http://www.facebook.com/sherrywinesjerez
Twitter @sherrywine
Instagram @sherrywinesjerez
Hashtag #sherryweekonline