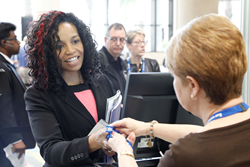 We strive to make Pittcon the best value for our attendees.
PHILADELPHIA (PRWEB) October 04, 2018
Registration for the 70th annual Pittcon is now open. The leading conference and exposition for laboratory science will be held in Philadelphia, Pa. at the Pennsylvania Convention Center from March 17-21, 2019. A discounted registration fee of $190 is available through February 25, 2019.
The event promises an exceptional line-up of speakers, a bustling exhibit hall, extensive networking opportunities, professional development courses, after-hours events, and more. This year's keynote speakers are 2016 Nobel Laureate Professor Fraser Stoddart (Board of Trustees Professor of Chemistry and head of the Stoddart Mechanostereochemistry Group in the Department of Chemistry at Northwestern University) and Dr. Fenella G. France (Chief of the Preservation Research and Testing Division at the Library of Congress).
"We strive to make Pittcon the best value for our attendees," commented Registration Chair Karen Johnson. "Pittcon 2019 offers a variety of registration types to best accommodate our audiences, including student prices, group rates, expo only passes, one-day passes, and of course our annual free admission Thursday."
The affordable price includes unlimited week-long access to the exposition, technical sessions, networking sessions, the Wallace H. Coulter Lecture, the Plenary Lecture, NEXUS presentations, DemoZone exhibitor presentations, the Employment Bureau, and all event amenities. Attendees also have the option to add to their Pittcon experience with Short Courses and special evening outings.
After the discount deadline, the full attendee registration price increases to $350. Discounts are available for groups and short course students. Pittcon offers the following additional registration options:

Expo Only: $100
Student: $50
One Day $150
Thursday: No admission fee
Visit http://pittcon.org/register to get more information and to register.
About Pittcon
Pittcon® is a registered trademark of The Pittsburgh Conference on Analytical Chemistry and Applied Spectroscopy, a Pennsylvania non-profit organization. Co-sponsored by the Spectroscopy Society of Pittsburgh and the Society for Analytical Chemists of Pittsburgh, Pittcon is the premier annual conference and exposition on laboratory science. Proceeds from Pittcon fund science education and outreach at all levels, kindergarten through adult. Pittcon donates more than a million dollars a year to provide financial and administrative support for various science outreach activities including science equipment grants, research grants, scholarships and internships for students, awards to teachers and professors, and grants to public science centers, libraries and museums. Visit http://www.pittcon.org for more information.