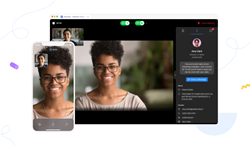 We wanted to capture what people love most about events, which is the way they fuel real-time discovery of potential solutions in their space and foster authentic conversations with other human beings.
SAN JOSE, Calif. (PRWEB) December 17, 2020
Attendify, the leading platform provider of virtual and hybrid event applications and event data management tools, today announces its new MeetNow feature. MeetNow empowers virtual event attendees to instantly interact one-on-one with sponsors and exhibitors, via its built-in, live video conferencing capabilities. MeetNow was created to further provide tangible value and increased ROI for sponsors and exhibitors, which has become a more prevalent challenge for virtual events.
MeetNow is designed to facilitate on-demand, one-to-one conversations between attendees and vendors, which feel as authentic and engaging as they would in-person at a physical event. By connecting attendees with sponsors and exhibitors instantly, via private messaging and live video calls, all parties involved have access to fellow event participants, with whom they most want to purposefully and meaningfully convene and interact.
"A lot of virtual events have turned to ineffective 3D graphics and other gimmicks in order to capture attention, but they just don't work," said Michael Balyasny, Chief Executive Officer of Attendify. "We wanted to capture what people love most about events, which is the way they fuel real-time discovery of potential solutions in their space and foster authentic conversations with other human beings. That's exactly what MeetNow provides to attendees, while simultaneously delivering great value to sponsors and exhibitors."
MeetNow makes it easy to connect to a private video call right within Attendify's event platform at a moment's notice, simulating the experience of walking up to a booth and starting a conversation. This next-gen functionality is difficult, or nonexistent, in other virtual event platforms. Furthermore, the product works seamlessly both online and on mobile, with no plugins or other applications to install. MeetNow is simple and elegant, making it easy for event planners to onboard sponsor teams, as well.
To help illustrate the power of the Attendify virtual and hybrid event platform's newly launched MeetNow functionally, here's an example of how this functionality may look like in-action:

Attendees can browse and interact with profiles and content in the sponsor, or exhibitor area of the virtual event.
They select the profile they're interested in, where they can easily get access to robust information about that sponsor and its offering(s).
When they want to initiate a video call with an event sponsor, they automatically see a list of representatives who are available to meet on-demand. Each sponsor representative has a status that's configurable and unique to them, so they can set themselves as available or away.
The interested attendee clicks a single button to launch a video call with the sponsor's team of representatives.
If the sponsor is available, they can immediately begin conversing live, with the ability to share their audio, video and screen.
In addition to MeetNow, Attendify is working on additional new features for sponsors and exhibitors that will be released in the near future. For more information about Attendify's native streaming service and virtual event platform, and to see a short demo, visit: https://attendify.com/company/contact.
About Attendify
Attendify is a trailblazer in SaaS-based virtual and hybrid event technology, dedicated to innovating solutions that bridge the gap between event marketing and digital marketing. Its continually growing product suite puts event data to work, boosting return on investment and enhancing the entire attendee experience. With clients like PayPal, TEDx and Harvard University — and a ratings average of 4.7 stars across G2 Crowd and Capterra, and 4.8 stars in the App Store and Google Play — Attendify offers an intuitive, cost-effective platform that transforms events. For more information, please visit https://attendify.com/.