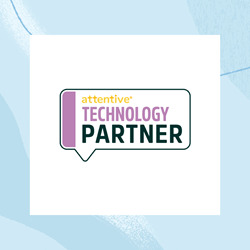 "Attentive's Technology Partnership Program is a strategic step in supporting our customers and building upon our industry-leading text messaging platform," said Allison Kelly, Head of Technology Partnerships at Attentive
NEW YORK (PRWEB) June 18, 2020
Attentive®, the personalized mobile messaging SaaS platform for brands and organizations, announced the official launch of its new Technology Partnership Program today. This program is designed to expand technical partnerships and build integrations that provide Attentive's customers with enhanced abilities to connect with their e-commerce platform, CRM, ESP, and more to centralize customer data and build comprehensive text messaging strategies.
Official members of Attentive's Technology Partnership Program will receive access to a dedicated resource center, sales enablement training, prioritization for joint marketing opportunities, and visibility within Attentive's Partner Directory to help customers find top-notch partners that best fit their business goals.
This program will help explore new areas of innovation with technology partners to better support Attentive's customers, and expand native capabilities when used together. It is Attentive's priority to understand customers' technology stacks and build partnerships that improve ease of data sharing across platforms for enhanced cross-channel list growth, segmentation, message personalization, and two-way communication.
Members of Attentive's Technology Partnership Program receive the following unique benefits:

Access to elevated support
Revenue share for referrals
Access to a dedicated resource center
Inclusion in co-marketing opportunities
Exclusive use of the Attentive Technology Partner Badge
Attentive is a trusted partner of leading technology providers including Daasity, Shopify, Optimove, Gorgias, mParticle, Sailthru, and Talkable. Featured technology partners can be viewed on Attentive's Partner directory.
"Attentive's Technology Partnership Program is a strategic step in supporting our customers and building upon our industry-leading text messaging platform. This program further solidifies the investment we are making in the success of our customers, product, and the broader technology market," said Allison Kelly, Head of Technology Partnerships at Attentive. "Attentive is committed to continued innovation in our space, and I would anticipate more exciting announcements and product integrations to come for quite some time."
For more information about this program visit Attentive's Partner page.
About Attentive
Attentive® is a personalized mobile messaging platform for innovative brands & organizations that can quickly become a top 3 revenue channel. Using real-time behavioral data, Attentive automatically sends engaging text messages to each subscriber at every step of the customer lifecycle. Over 1,000 leading businesses rely on Attentive and see strong performance, like 30%+ click-through rates and 25x+ ROI. To learn more about Attentive or to request a demo, visit http://www.attentivemobile.com.