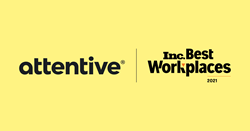 NEW YORK (PRWEB) May 12, 2021
Attentive, the most comprehensive text message marketing solution, has been named to Inc. magazine's annual list of the Best Workplaces for 2021. Collecting data from thousands of submissions, Attentive is one of the 429 honorees Inc. singled out this year.
As one of the fastest growing SaaS companies to date, Attentive empowers the most innovative brands to create meaningful interactions through personalized text messaging. Attentive's vision is to reinvent business to consumer communication and commerce for the mobile age. The company's 700+ team is focused on building the most powerful platform to change the way brands interact with consumers.
"Attentive's greatest strength is our people. Our team hit quite a growth spurt in 2020 to meet market demand for our product. Our headcount increased 229% and we aren't showing signs of slowing down. As we continue to scale, we're proud of fostering and investing in a curious, collaborative, and inclusive workplace," said Kellie Valladares, Chief HR Officer of Attentive.
The list is the result of a wide-ranging and comprehensive measurement of companies that have created exceptional workplaces and company culture. Each nominated company took part in an employee survey, conducted by Quantum Workplace, on topics including management effectiveness, perks, and fostering employee growth. The organization's benefits were also audited to determine the company's overall score and ranking.
"The definition of a positive workplace has changed drastically over the past year," says Inc. magazine editor-in-chief Scott Omelianuk. "Stocked fridges and nap pods were no longer perks many companies could rely on once work went remote. So, this year's list is even more important as it reveals organizations that continue to enrich the lives of its employees amid a pandemic."
For more details on what employees shared that draws them to Attentive, check out the blog post here.
Interested in being part of the Attentive team? Visit our careers page, Linkedin and check out @attentivemobile on Instagram.
About Attentive
Attentive® is the most comprehensive text message marketing solution, driving 18.5% of total online revenue for businesses by creating thoughtful SMS experiences. Using real-time behavioral data, Attentive automatically sends engaging text messages to each subscriber at every step of the customer lifecycle. Over 3,000 leading businesses like CB2, Pura Vida, Urban Outfitters, Rebecca Minkoff, Steve Madden, and more rely on Attentive and see strong performance, like 30%+ click-through rates and 25x+ ROI.
Attentive is backed by Coatue, Bain Capital Ventures, Sequoia, IVP, and other leading venture firms. To learn more about Attentive or to request a demo, visit http://www.attentivemobile.com.
About Inc. Media
The world's most trusted business-media brand, Inc. offers entrepreneurs the knowledge, tools, connections, and community to build great companies. Its award-winning multiplatform content reaches more than 50 million people each month across a variety of channels including websites, newsletters, social media, podcasts, and print. Its prestigious Inc. 5000 list, produced every year since 1982, analyzes company data to recognize the fastest-growing privately held businesses in the United States. The global recognition that comes with inclusion in the 5000 gives the founders of the best businesses an opportunity to engage with an exclusive community of their peers, and the credibility that helps them drive sales and recruit talent. The associated Inc. 5000 Conference is part of a highly acclaimed portfolio of bespoke events produced by Inc. For more information, visit http://www.inc.com.
About Quantum Workplace
Quantum Workplace, based in Omaha, Nebraska, is an HR technology company that serves organizations through employee-engagement surveys, action-planning tools, exit surveys, peer-to-peer recognition, performance evaluations, goal tracking, and leadership assessment. For more information, visit QuantumWorkplace.com.