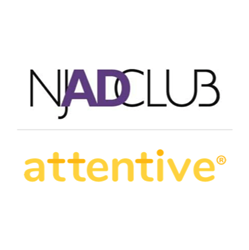 "What drew me to pursue a career in marketing is how the profession values creativity and strategy equally," said Brooke Burdge, VP of Marketing at Attentive.
NEW YORK (PRWEB) May 27, 2020
The NJ Ad Club, a leading organization of marketing and communications professionals residing in New Jersey, has recognized Brooke Burdge, VP of Marketing at Attentive®, as one of the top 40 marketing and communications professionals under the age of 40 for 2020.
Winners of the 2020 Jersey's Best Top Marketing and Communications Professionals Under 40 Award presented by the NJ Ad Club represent the top professionals who have each had a substantial impact on the marketing and communications industry before they've reached the age of 40. The winners selected must embody exemplary leadership by motivating others to achieve their vision, promoting innovation, and prioritizing creativity.
Burdge has spent her career leading & building powerful B2B marketing organizations—particularly in the marketing technology space. After starting her career in marketing at Deloitte and Movable Ink, Burdge joined as the first marketing hire at TapCommerce, a mobile app re-engagement technology. The company was later acquired by Twitter in 2014, where she went on to lead B2B marketing for the Mobile Apps & Telco verticals.
In 2016, Burdge joined as part of the founding team of Attentive—a personalized mobile messaging SaaS platform that now works with over 1,000 leading brands and organizations. Burdge's marketing sense has helped power Attentive's rapid growth trajectory to become the industry's most comprehensive personalized text messaging solution, driving billions of dollars in revenue for its customers.
In leading the marketing team at Attentive, Burdge aims to infuse thoughtfulness and creativity into campaigns. For example, Attentive recently announced a COVID-19 e-commerce data microsite and related philanthropic program—Attentive donates $10 for each subscriber who signs up to receive the data updates via text message, powered by the company's own technology.
"It's exciting to receive this recognition alongside other marketing professionals from my home state," said Brooke Burdge, VP of Marketing at Attentive. "What drew me to pursue a career in marketing is how the profession values creativity and strategy equally. Today, I'm helping build a brand for a technology company that's completely changing how marketers communicate with their audiences using text messaging. Being a 'marketer to marketers' allows me to have a greater impact on the marketing space overall, which I love."
Burdge is a resident of Jersey City, New Jersey. She grew up in Spring Lake Heights, New Jersey and started her career in marketing communications by attending Communications High School in Wall Township, New Jersey.
Additional information on the award recipients can be found at https://njadclub.org/.
About Attentive:
Attentive® is a personalized mobile messaging platform for innovative brands & organizations that can quickly become a top 3 revenue channel. Using real-time behavioral data, Attentive automatically sends engaging text messages to each subscriber at every step of the customer lifecycle. Over 1,000 leading businesses rely on Attentive and see strong performance, like 30%+ click-through rates and 25x+ ROI. Attentive has raised over $163 million in venture funding—with the most recent raised in April 2020—and is backed by some of the world's leading venture firms, including Sequoia, Sequoia Capital Global Equities, Coatue, IVP, Bain Capital Ventures, Eniac Ventures, NextView Ventures, and High Alpha. To learn more about Attentive or to request a demo, visit http://www.attentivemobile.com.