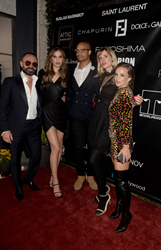 "My vision is to create an exclusive space where the public, Hollywood stylists, celebrities, and influencers can find a mix of one-of-a-kind fashion pieces by established luxury brands and from trendy Eastern European designers." Maria Golomb
WEST HOLLYWOOD, Calif. (PRWEB) November 18, 2021
Fashionistas Maria Golomb and Max Gor announced the grand opening of their luxury boutique Attic Koncept that launched with a red-carpet party. Attendees included film producer Mary Aloe ("Bruised" starring Halley Berry); Christina Englehardt ("Allen v. Farrow"); Vogue model Meredith Mickelson; actress Lilit Bush ("Celebrity Watch Party"); fitness model Shaka Smith; German model and actress Wilma Elles; executive producer of Los Angeles Fashion Week, Arthur Chipman; Endorse Management Group's founder Michael Greenwald; Hollywood stylists; and Instagram influencers attending, among many others.
"Max and I have worked in the fashion business for 20+ years, and we've always had a passion for discovering distinctive fashion styles," said Maria Golomb. "My vision is to create an exclusive space where Hollywood stylists, celebrities, and influencers can find a mix of one-of-a-kind fashion pieces by established luxury brands and from trendy Eastern European designers."
The concept behind the boutique is a concierge service that carries premium designers, selected pieces, and rare finds from Valentino, The Attico, Alexandre Vauthier, Paco Rabanne, and more. Inventory also includes designers new to the American market that present prêt-à-porter collections, made-to-measure service, and seasonal pre-orders.
The Covid-compliant event was attended by over two hundred guests, including Hollywood celebrity stylists Pinky Dillion, Tatiana Allen, Vince Kelvin, Tal B Vincent Mva.la, George Blodwell, and Modern Salon magazine's President, Brian O'Rourke.
"The store is full of timeless luxury pieces that have been hand-picked by Maria and me," said Max Gor. "Customers will be able to find a beautiful selection from stylish Eastern European designers such as Ruslan Baginskiy, Runa Concept, Alexander Arutyunov, and others.
"Our concept is also unique because our team is able to source extraordinary pieces from established luxury brands that you'd never find anywhere else," said Maria.
The boutique is open by appointment and welcomes the public to book private sessions. Movie and television producers, celebrities, and celebrity stylists will be able to pull outfits on a loan-out agreement for red-carpet events and photoshoots. Film producer Mary Aloe wore a midnight blue, glitter evening blazer by Italian designers Dsquared2 (from Attic Koncept) to the Netflix film premiere for "Bruised" on November 13, 2021.
Due to Covid precautions, the location will operate within limited capacity, disinfect between appointments, temperature checks, and mandatory mask-wearing for both employees and clients.
The public may visit Attic Koncept by appointment only. Telephone: 323-448-2084. Customer service CS@attickoncept.com.
Learn more about Attic Koncept, their wholesale program, and how to schedule a visit. Check out Attic Koncept and book an appointment online.
Follow on social media
@attickoncept
Facebook
About Attic Koncept
Maria Golomb is a fashion industry professional with diligent on-the-ground procurement experience in Italy, France, the US, Spain, Germany, Denmark, Russia, and China, with a strong understanding of fashion trends by different geographic areas, age categories, and gender. Her sales knowledge, passion, and career evolved while working her way through various positions as a sales associate, merchandiser, stylist, production manager, and a buyer for Kenzo and Giorgio Armani.
In 2004, Max Gor moved to Moscow, where he had the opportunity to work as a stylist on major television shows, such as "Factor-A" and "Top Model in Russian". Some of his key clients in Russia were Ksenia Sobchak, Lera Kudryavtseva, Irina Shayk, American boxer Roy Jones, model and TV presenter Janice Dickinson, French singer Patrice Kaas, and many others. He and Maria are business partners in the Attic Koncept.
Learn more at Attic Koncept.