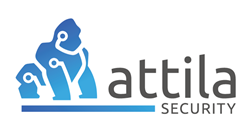 These successful cyber security professionals share Attila's passion for simplified endpoint security.
FULTON, Md. (PRWEB) November 19, 2018
Attila Security, a leader in endpoint security, announced today several additions to its Board of Directors. Attila's new board members are security pioneers with extensive experience in cyber defense, Defense Industrial Based supply chain management and enterprise security governance and policy. This group will provide invaluable insight and guidance as Attila continues developing advanced security solutions that protect government and enterprises from cyber attacks.
Gregg Smith, CEO, Attila Security said "From the outset, Steve Witt, co-founder of DataTribe, and I shared the same goal of building a world-class board at Attila Security. After a long process we are pleased to announce the addition of three new board members. These successful cyber security professionals share Attila's passion for simplified endpoint security. Marc has a diverse background as both an IoT specialist and a global Fortune 100 enterprise security leader. Michael was a founding member of Zscaler and a key executive for its successful IPO in 2018. Michael brings deep technical expertise in cyber threat defense and cloud security. General Simmons is a decorated Brigadier General USMC with unparalleled working experience in securing Defense Industrial Based supply chain networks."
Newly appointed to the Board of Directors are:
Michael Sutton, former Chief Information Security Officer at Zscaler. As a member of Zscaler's founding executive team, Mr. Sutton helped take Zscaler from stealth mode to a successful IPO in March 2018. At Zscaler he was responsible for internal security and headed the Office of the CISO. Prior to Zscaler, he was instrumental in building other pioneering security startups including SPI Dynamics (acquired by HP) and iDefense (acquired by VeriSign).
"With an increasingly mobile workforce, secure remote connectivity is vital. Attackers have continually shifted their focus from the corporate infrastructure to the end user, as this often represents a weak link in the security chain." said Michael Sutton, adding: "Whether users are connecting via insecure networks or from personal devices, IT departments are in the unenviable position of trying to enforce security without hampering productivity. Attila is directly tackling this challenge for enterprises and government agencies alike by delivering a portable, user-friendly solution for remote connectivity which enforces standardized security controls using strong encryption regardless of the device or network being utilized."
Marc E. Gruzenski, Director - Global Security Technology at The Walt Disney Company. Mr. Gruzenski has over twenty years of intelligence experience in military, government and private sectors. He specializes in driving global technology initiatives to secure intellectual property, facilities and individuals. His prior experience also includes stints as Chief of Intelligence & Analysis at Accenture, Case Officer at the Central Intelligence Agency and Captain in the U.S. Army.
Brigadier General John W. Simmons, retired Brigadier General - USMC. A respected and experienced military leader, General Simmons brings valuable insights, experience and leadership in the arena of supply chain, logistics and cyber defense. He has over 20 years of senior and executive level organizational experience in complex organizations undergoing constant change, as well as functional expertise in logistics planning and operations, transportation, program management, training and supply chain management.
About Attila
Based in Fulton, MD, Attila mobilizes security at the edge where cyber threats matter. The company's award-winning GoSilent technology was designed to protect governments and enterprises from advanced cyber attacks, zero-day threats, and data theft. Built for the cloud world where traditional network perimeters have disappeared, GoSilent helps global enterprises protect their most valuable asset - DATA - wherever it resides. By providing visibility, control and threat defense across physical, virtual and cloud applications, Attila protects government and enterprise from the tidal wave of breaches and cyber crime estimated to cost the global economy more than $400 billion on an annual basis. GoSilent technology protects governments and enterprises across the globe with immediate results. Read more about Attila's products and solutions, or visit its blog to get the latest news and updates.