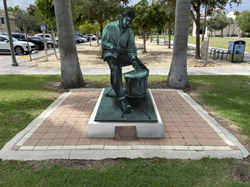 The George Floyd murder was horrific, and changed the country. Like Mr. Floyd, Corey Jones, a beloved member of Delray Beach and Palm Beach communities, was needlessly killed by a police officer. We thank Delray Beach for honoring Mr. Jones with a Proclamation and interest in a Statue in his honor.
DELRAY BEACH, Fla. (PRWEB) October 14, 2020
A LIVE NATIONAL MEDIA/NEWS PRESS CONFERENCE IN HONOR OF THE 5TH ANNIVERSARY MURDER OF COREY JONES
Corey Jones was a 31-year old African American man who was killed by a plainclothes police officer, Nouman K. Raja, while waiting by his disabled car for a tow truck in Palm Beach Gardens, Florida. Raja was charged with manslaughter by culpable negligence and attempted first-degree murder with a firearm and was sentenced to 25 years in prison on April 25, 2019.
WHO:
Corey Jones' family, including Clinton Jones Sr (father), CJ Jr. (brother) Melissa Jones (sister)
Attorney Ben Crump
Mayor Shelly Petrolia
Mack Bernard, County Commissioner
Marjorie Waldo, Executive Director of Arts Garage
Jeff Mustard, writer and producer of the song, "Enough"
Delray Beach City Commissioners
WHEN:
October 16, 2020, at 1 p.m. ET
LIVE EVENT STREAM: Stream the event here: http://www.facebook.com/DelrayArtsGarage
WHERE:
Arts Garage
94 NE 2nd Ave.
Delray Beach, FL 33444
Parking and access directly in front of Arts Garage Facility for TV News crews.
###
ABOUT BEN CRUMP LAW
Through his work, nationally renowned civil rights and personal injury attorney Ben Crump has spearheaded a legal movement to better protect the rights of marginalized citizens. He has led landscape-changing civil rights cases and represented clients in a wide range of areas including civil rights, personal injury, labor and employment, class actions, and more. Ben Crump Law is dedicated to holding the powerful accountable. For more information, visit http://www.bencrump.com.
ABOUT JEFF MUSTARD - PROJECT & EVENT CREATOR/PRODUCER
Jeff Mustard is a South Florida based, multiple award-winning tv writer/producer and music writer/producer. Mr. Mustard felt it was important to not let the fifth anniversary date of Corey's shooting come and go without recognition. Working with the Jones Family and Delray Beach City Officials, the City agreed to declare October 18th Corey Jones Memorial Day, and will honor Corey's life with a Proclamation. The City is also interested in dedicating a small plot of land for a Corey Jones Memorial Statue and is further considering participating in a private/public matching fundraising effort.
PROJECT WEBSITE: http://www.EqualJusticeStudios.com
JEF MUSTARD: 943-801-8263 | Jeff@thebambooagency.com