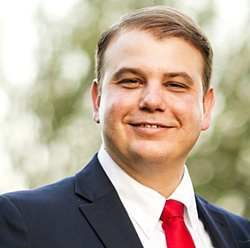 Danny Russell and the Russell Law Firm provide legal representation to clients from Baton Rouge and all of Louisiana.
BATON ROUGE, La. (PRWEB) February 17, 2020
Danny Russell, proprietor and lead counsel for the Russell Law Firm in Baton Rouge, has been chosen by the Super Lawyers® rating service for the 2020 Louisiana edition of its Super Lawyers-Rising Stars. The list is comprised of the attorneys the service deems the top 2.5 percent of Louisiana lawyers who are under the age of 40 and who have been practicing for ten years or less. The Super Lawyers service is aimed at providing information to legal consumers and employs a patented selection process comprised of multiple phases that employ a dozen markers of success in the legal profession. The determinations are made by peers, specifically high-scoring fellow attorneys who themselves are candidates for recognition by Super Lawyers.
The Russell Law Firm has been operating for several years and recently moved into larger quarters to make room for its expansion. The firm notes that it provides experienced legal representation in a number of areas, primarily personal injury and family law, as well as DWI and oil and gas counsel for landowners. Mr. Russell has previously been selected for numerous honors and has been featured on numerous best-of lists including the National Trial Lawyers' "Top 40 Under 40."
In his personal injury work, Mr. Russell has represented numerous clients who have been harmed or lost a loved one in accidents, as well as help for individuals facing DWI charges. Mr. Russell says that his interest in the law began when he was involved in a car accident as a young college student where the other driver was at fault. When he learned later on that the compensation he happily received from his insurance company was actually just a fraction of the amount someone in his situation could expect, he became interested in the ability of a good lawyer to protect the rights of individuals.
Danny Russell and the Russell Law Firm provide legal representation to clients from throughout Baton Rouge and all of Louisiana. Interested readers who would like to learn more about the firm's services in personal injury, family law, DWI as well as oil and gas rights may call (225) 307-0088 or visit its website at http://dannyrusselllaw.com/. The firm is located near the I-12 at Southfork Avenue.