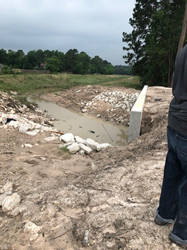 The plaintiffs are seeking recovery from the defendants.
HOUSTON (PRWEB) June 21, 2019
Webster, along with attorney Kimberley M. Spurlock, filed three lawsuits in the District Court of Harris County, Texas (Case Nos. 2019-33415-7, 2019-34366-7, and 2019-36139-7). The case stems from an average rainfall of which the water drained from a Figure Four Partners (defendant) development directly into Elm Grove's streets and into the plaintiffs' homes.
According to court documents, this water caused extreme damage to the structures and the personal effects of the plaintiffs. Court documents further allege that there was nothing the plaintiffs did to contribute to this flooding, and that prior to the May 7, 2019, rainfall none of the plaintiffs' homes had ever flooded.
Defendants Figure Four and PSWA were developing a plot of land named the "Woodridge Village Development" that borders the northside of the Elm Grove neighborhood. The defendants hired Rebel Contractors as the general contractor to prepare the development for construction.
Court documents state that as of May 7, 2019, the development was not completed, but the defendants had allegedly begun the removal of trees and debris from the development and trenched out certain areas and added box culverts in an attempt to create drainage for the development. According to court documents, the defendants also filled in existing creeks and drainage channels while developing the land, thus allegedly completely blocking water flow from the existing water channels and ridding Elm Grove of proper drainage. Additionally, court documents further state, the defendants cleared the land and the development was sloped toward the plaintiffs' neighborhood such that water would flow directly towards their homes.
"The plaintiffs are seeking recovery from the defendants," said attorney for the plaintiffs Webster, who has been named a Top 10 Personal Injury Attorney by Attorney and Practice Magazine and a Super Lawyer.
Furthermore, each of the defendants in the case recently filed an answer to the lawsuit, denying all allegations, and made a counter claim against the plaintiffs for having their homes flooded.
About The Webster Law Firm
The Webster Law Firm handles a wide range of cases and has obtained many successful results. It focuses on representing individuals injured by another party's negligence. Personal injury lawyer Jason Webster is a licensed legal representative in Texas, New York, Pennsylvania, Mississippi, and Oklahoma. He is a member of the prestigious American Board of Trial Advocates, American Bar Association, State Bar of Texas, Houston Young Lawyers Association, Association of Trial Lawyers of America, Texas Trial Lawyers Association and Houston Trial Lawyers Association. For more information, please call (713) 396-5197, or visit http://www.thewebsterlawfirm.com. The law office is located at 6200 Savoy Drive, Suite 150, Houston, TX 77036.
For media inquiries, please call the NALA at 805.650.6121, ext. 361.