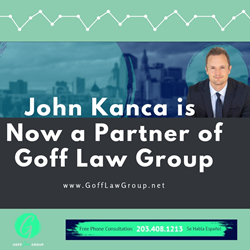 HARTFORD, Conn. (PRWEB) January 22, 2019
Goff Law Group, a trusted personal injury law firm in Hartford, Connecticut, has recently announced its own Attorney John Kanca has been promoted to a partner of the firm. As a partner, Attorney Kanca has established himself as an accomplished injury attorney and legal ally to the wrongfully injured throughout the state. He and the others at Goff Law Group are confident he will use his new position to better represent even more people in all sorts of injury claims, ranging from the straightforward to the highly complex.
Before coming to Goff Law Group, Attorney Kanca made a name for himself as an experienced insurance defense attorney who worked for major insurers and even a Fortune 100 corporation. Being an insurance defense representative involved responding to claims and taking cases to court to protect insurance company interests. Upon realizing his calling belonged on the plaintiff side of personal injury claims, Attorney Kanca joined Goff Law Group, where he can lend his unique insight into how insurance defense strategies generally look and evolve. The inside perspective he provides has played a significant role in the success of many of the law firm's clients across the years.
Professional memberships earned by Attorney John Kanca include the Connecticut Trial Lawyers Association and the Connecticut Bar. After attending Boston College for his undergraduate degree, he completed his Juris Doctorate at the University of Connecticut.
For more information about Goff Law Group and Partner-Attorney John Kanca, inquiring parties can visit https://www.gofflawgroup.net/.