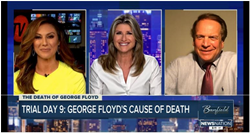 GREENWICH, Conn. (PRWEB) April 14, 2021
On that day of trial, prosecutors had called several medical experts who testified as to the cause of George Floyd's death, which they stated was due to asphyxia caused by Mr. Chauvin's knee on his neck. Mr. Kelly noted that the defense made no objections to the experts' testimony, and that the trial on the whole has not been adversarial. Mr. Kelly added that the trial has been all about George Floyd, and Derek Chauvin has not been humanized at all.
Mr. Kelly also discussed the potential strategies that the defense may use, including looking at Mr. Chauvin's intent. According to Mr. Kelly, this should have been the defense's focus from day one, and while there is no question in the jurors' minds that Mr. Chauvin's knee on Mr. Floyd's neck contributed to his death, the question is whether Chauvin knew that Mr. Floyd was in distress and whether Chauvin exhibited a depraved mind or a reckless disregard for human life with his actions.
The episode of "Banfield" aired on April 8, 2021. To view the episode, visit https://www.newsnationnow.com/banfield/jerry-springer-reflects-on-decades-of-hosting-the-jerry-springer-show/
About Ivey, Barnum & O'Mara, LLC
Ivey, Barnum & O'Mara, LLC is a general practice law firm in Greenwich, Connecticut, with a branch office in New Canaan, Connecticut and satellite offices in New York. The firm provides legal representation in multiple practice areas, including personal injury and wrongful death cases, corporate law, employment law, commercial and residential real estate, civil litigation, and trusts and estate planning. Ivey, Barnum & O'Mara, LLC is dedicated to its clients and community, and the firm works to achieve its clients' goals in legal matters related to families and businesses. To learn more about the firm, visit https://www.ibolaw.com/ or call 203-661-6000 to arrange a consultation.