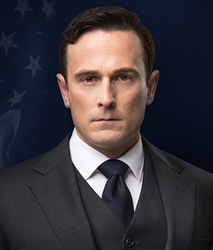 I've simply dedicated myself to advocating for my clients as zealously as possible and with the highest commitment to integrity and justice.
ATLANTA (PRWEB) May 03, 2021
The powerhouse military law firm of Capovilla & Williams recently announced that attorney Sean Flood has joined the firm as a partner.
Flood brings over a decade of legal experience to the firm's military law practice. His prior work includes several positions as a lawyer in the United States Army, including Special Forces Battalion Judge Advocate, Defense Counsel, Trial Counsel, and Administrative Law Attorney. As part of his work in the Army, Flood was deployed to Afghanistan and twice to Syria where he advised leadership on the Law of Armed Conflict and Rules of Engagement. More recently, he has represented both active military service members and veterans in matters involving criminal charges, discharge upgrades, and other important issues affecting their freedom, careers, and reputation.
Mickey Williams, co-founding partner of Capovilla & Williams, believes that Flood's addition will make a very positive and immediate impact on the firm's cases, as well as future matters for which it is retained. "Sean is an incredibly effective advocate both inside and outside of the courtroom, brings a significant amount of experience dealing with tough legal issues, and is an honored member of the military family," said Williams. "We feel fortunate to have him as part of our team and look forward to him routinely producing positive outcomes for those who place their trust in our law firm."
Flood is no stranger to doing what it takes to get the job done. For his hard work and dedication to our Country, he earned the Bronze Star Medal (Meritorious), Meritorious Service Medal, three Army Commendation Medals, Judge Advocate General's Coin, Operation Enduring Freedom Campaign Medal Operation Inherent Resolve Campaign Medal, and NATO Medal.
For Flood, however, his career and accompanying success is the result of a commitment to one simple principle. "Doing the right thing as a lawyer is often very clear," said Flood. "I've simply dedicated myself to advocating for my clients as zealously as possible and with the highest commitment to integrity and justice. As a result, everything else has worked out well for me and I'm looking forward to doing great work as part of the CW team."
About Capovilla & Williams: Nationally recognized for its work on behalf of military service members, veterans, and their families, the attorneys of Capovilla & Williams bring an unmatched commitment to obtaining justice. The firm represents clients across the United States in matters ranging from court martials and administrative separation to discharge upgrades and other issues falling within the jurisdiction of U.S. military courts. The firm's attorneys are also known for their commitment to charitable groups and organizations dedicated to improving the lives of all community members and especially veterans in need.