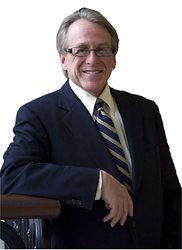 Detroit, MI (PRWEB) August 25, 2017
David S. Steingold, co-founder of The Steingold & Dwyer Law Group, is celebrating his 35th anniversary as an attorney. "I began practicing law in 1979 as a criminal defense attorney. It is the only job I ever wanted, and the only one I will ever have," said Steingold, who has the highest rating issued by Martindale-Hubbell, the preeminent company that has rated lawyers for over 75 years, which he has retained for more than 35 years. "It was my goal, and it is my goal now, to help the underprivileged, the falsely accused, and anyone else who sought my assistance in combating the system which seeks to oppress them. I view myself as a foot soldier to the Constitution, and my intention is to continue on my march until I am no longer able."
Described by his peers as a "pit bull," Steingold is renowned as a take-no-prisoners trial lawyer that challenges judges and prosecutors that threaten his clients' rights. During the course of his illustrious 35-year career, Steingold has won acquittals in dozens of significant state and federal trials and has represented individuals in several high-publicity cases. Steingold has been featured in several legal publications and television shows, both national and local. He appeared on such shows as Geraldo, The Today Show and 60 Minutes.
"Watching David in trial is surreal, like a script. The way he uses facts, logic, medical records, conflicting statements and every tool to prove his points is a talent that not all attorneys have," said client Tom. "I watched him prove prosecutors and witnesses wrong to help prove my innocence and recommend him to anyone needing an attorney, especially for a severe case."
In addition to criminal defense, Steingold also represents clients in complex civil litigation. He currently represents several local businesses, including Leonard Fountain Syrups.
​
About The Steingold & Dwyer Law Group
Attorneys at The Steingold & Dwyer Law Group specialize in criminal defense, including murder and other homicide cases, drug crimes, white collar crimes and conspiracy. David Steingold and Lisa Dwyer also have expertise in a number of sub-categories of criminal defense. For more information, please call (313) 962-0000, or visit http://www.steingolddwyerlaw.com. The law office is located at 400 Monroe St., Suite 280, Detroit, MI 48226.
About the NALA™
The NALA offers small and medium-sized businesses effective ways to reach customers through new media. As a single-agency source, the NALA helps businesses flourish in their local community. The NALA's mission is to promote a business' relevant and newsworthy events and achievements, both online and through traditional media. The information and content in this article are not in conjunction with the views of the NALA. For media inquiries, please call 805.650.6121, ext. 361.