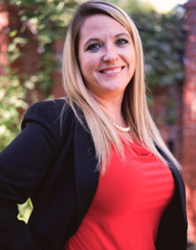 Oklahoma's problems with the death penalty have been well-documented and pervasive, with innocent men being murdered by their own government.
Oklahoma City, OK (PRWEB) May 18, 2017
According to an April 26, 2017, article in The Intercept, the Oklahoma Death Penalty Review Commission recently recommended that a moratorium on carrying out capital punishment in the state be continued indefinitely. The Oklahoma Death Penalty Review Commission report also concluded that innocent people have "undeniably" been sentenced to death in Oklahoma.
"The obvious problem is the permanency of the death penalty. What if we got it wrong?" asked attorney Jacquelyn L. Ford, a native Oklahoman and founder of Jacquelyn Ford Law. "Our system is not a perfect one, and the convictions are only as accurate as the evidence and quality of defense presented. However, in a state facing a $900 million deficit, the real issue becomes the foolish use of our limited funds. The costs of the death penalty are shocking, especially when you take into account the money that is not spent on appropriately funding public defenders' offices."
In fact, Oklahoma public defenders have finite resources, and cannot operate on the same playing field as government lawyers. "Public defenders are routinely in violation of American Bar Association recommended number of cases per person," added Ford. The result is lack of effective investigation and defense, which results in lack of credible convictions.
The Intercept article also reports that the state of Oklahoma killed a man in January 2015 using an untested and improper drug, and that the same drug had been delivered for a second execution scheduled for September 2015. This followed a botched execution in April 2014 in which an inmate struggled on a gurney before dying 43 minutes into his lethal injection.
"Oklahoma's problems with the death penalty have been well-documented and pervasive, with innocent men being murdered by their own government," concluded Ford. "After multiple cruel and unusual botched executions and a last-minute stay of execution from the Governor, Oklahoma Attorney General Scott Pruitt launched a full-scale investigation into the issue and discovered that the Department of Corrections had been using potassium acetate instead of potassium chloride. In case your chemistry is rusty, potassium chloride is an approved chemical for lethal injection, while potassium acetate is not an approved chemical."
About Jacquelyn Ford Law
Practice areas of Jacquelyn Ford Law include criminal law, civil rights, white collar crime, violent crimes, sex crimes, murder, drug charges, assault and battery, DUI/DWI as well as personal injury and medical malpractice. Jacquelyn Ford is a member of the Oklahoma Criminal Defense Lawyers Association, a regular speaker for the Oklahoma Bar Association, a legal expert for her local news affiliates and a faculty member of the esteemed Gerry Spence Trial Lawyers College. For more information, please call (405) 604-3200, or visit http://www.fordlawokc.com. The law office is located at 1621 North Classen Blvd., Oklahoma City, OK 73106.
About the NALA™
The NALA offers small and medium-sized businesses effective ways to reach customers through new media. As a single-agency source, the NALA helps businesses flourish in their local community. The NALA's mission is to promote a business' relevant and newsworthy events and achievements, both online and through traditional media. For media inquiries, please call 805.650.6121, ext. 361.