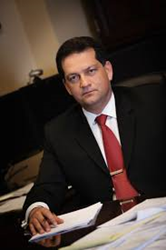 It is important to note that Congress' approval is not necessary for the order to be law, and an executive order has the same effect as if the law was passed by Congress.
Irvine, CA (PRWEB) March 29, 2017
Article II, Section 1 of the Constitution provides the President of the United States the executive power to issue executive orders. As such, President Trump recently issued an executive order prohibiting for 90 days the entry of travelers from six predominantly Muslim countries (Iran, Libya, Somalia, Sudan, Syria and Yemen), which was subsequently blocked by two federal judges.
"It is important to note that Congress' approval is not necessary for the order to be law, and an executive order has the same effect as if the law was passed by Congress," said attorney Majid Foroozandeh, founder of the Law Offices of Foroozandeh, APC. "But what if the executive order itself violates other provisions of the U.S. Constitution? So far, multiple federal judges have ruled enjoining the immigration ban. But why?"
It is stated in the First Amendment of the U.S. Constitution that Congress shall make no law respecting an establishment of religion, or prohibiting the free exercise thereof. If a law is such that it would hinder establishment of Islam as a religion, for example, or the free exercise of Muslims, it would violate the First Amendment. "But has President Trump's executive order actually hindered Muslims from establishing Islam or has it prohibited Muslims from freely exercising their religion?" asked Foroozandeh.
Section 8 U.S. Code § 1182 states that "Whenever the President finds that the entry of any aliens or of any class of aliens into the United States would be detrimental to the interests of the United States, he may by proclamation, and for such period as he shall deem necessary, suspend the entry of all aliens or any class of aliens as immigrants or nonimmigrants, or impose on the entry of aliens any restrictions he may deem to be appropriate. Whenever the Attorney General finds that a commercial airline has failed to comply with regulations of the Attorney General relating to requirements of airlines for the detection of fraudulent documents used by passengers traveling to the United States (including the training of personnel in such detection), the Attorney General may suspend the entry of some or all aliens transported to the United States by such airline."
Concluded Foroozandeh, "So here in a nutshell we have two specific laws that potentially conflict. Combine these two laws with race, national origin, and whether aliens outside of the U.S. can enjoy U.S. Constitutional protections and it's a quagmire. Federal judges and different circuit courts cannot ultimately be the final arbiter on this. This is something that will eventually find its way to the U.S. Supreme Court. Until then, immigration will be business as usual, with some interesting twists not on paper but in practice."
About the Law Offices of Foroozandeh, APC
The Law Offices of Foroozandeh, APC is an Orange County-based law firm engaged in handling cases involving Civil and Federal litigation, Immigration, Family Law, Personal Injury, Bankruptcy, Real Estate, Employment and Labor, Business and Contract issues. For more information, please call (949) 336-8505, or visit http://www.foroozandeh-law.com. The law office is located at 9891 Irvine Center Drive, Suite 130, Irvine, CA 92618, and they represent clients throughout Orange, Los Angeles, Riverside, San Bernardino and San Diego Counties.
About the NALA™
The NALA offers small and medium-sized businesses effective ways to reach customers through new media. As a single-agency source, the NALA helps businesses flourish in their local community. The NALA's mission is to promote a business' relevant and newsworthy events and achievements, both online and through traditional media. For media inquiries, please call 805.650.6121, ext. 361.