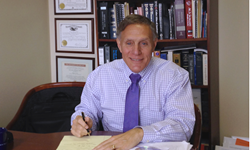 Chicago, IL (PRWEB) August 16, 2017
Personal injury attorney Mitchell Lipkin, co-founder of Lipkin & Higgins, recently won a case (Case No. 16-L-000196, filed in the Circuit Court of the 16th Judicial Circuit, Kane County, IL) on behalf of a client (plaintiff) who suffered from post-concussion syndrome following a car accident. According to court documents, the plaintiff was struck by the defendant, who entered an intersection on a red light while the plaintiff was driving through on a green light.
Court documents further allege that the defendant breached his duty of care to the plaintiff by carelessly and negligently driving his car through a red light, failing to maintain proper control over his vehicle, failing to avoid a collision when there was an opportunity to do so, failing to see other vehicles then and there on the roadway, and operating his motor vehicle at an excessive rate of speed. Court documents further state that as a direct and proximate result of one or more of the aforementioned careless and/or negligent acts of the defendant, the plaintiff suffered physical injury and other monetary damages.
The jury awarded the plaintiff damages, including the reasonable expense of necessary medical care, treatment and services received; the value of earnings lost; loss of a normal life experienced; and pain and suffering experienced.
Court documents state that a settlement at a certain amount was recommended by the court, but the insurance company refused to pay that amount, thus forcing the case to trial where the defendant wound up paying 80% more.
About Mitchell Lipkin, Lipkin & Higgins
Mitchell Lipkin focuses on automobile, construction, medical malpractice, slip and fall, nursing home and workers' compensation cases. He is a member of the American Association of Justice, Illinois Trial Lawyers Association, Chicago Bar Association and American Bar Association. For more information, please call (312) 857-1710, or visit http://www.lipkinhiggins.com. The law office is located at 222 North LaSalle, Suite 2100, Chicago, IL 60601.
About the NALA™
The NALA offers small and medium-sized businesses effective ways to reach customers through new media. As a single-agency source, the NALA helps businesses flourish in their local community. The NALA's mission is to promote a business' relevant and newsworthy events and achievements, both online and through traditional media. The information and content in this article are not in conjunction with the views of the NALA. For media inquiries, please call 805.650.6121, ext. 361.