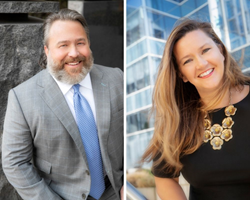 DALLAS (PRWEB) May 03, 2021
Experienced attorneys David Clouston and Leslye Moseley of the Sessions Firm once again have earned spots on the annual Best Lawyers in Dallas list published by D Magazine.
Mr. Clouston claimed his sixth consecutive selection among Dallas' leading lawyers based on his work in securities litigation and commercial disputes. Ms. Moseley earned her fourth selection as one of the Best Lawyers in Dallas in recognition of her representation of clients in all facets of labor and employment law.
Often referred to by clients as "part of the family," Mr. Clouston has spent more than 20 years representing businesses and individuals in proceedings before federal, state, and self-regulatory agencies and courts across the country. Clients rely on him for some of their most sensitive legal matters, including litigation avoidance, customer disputes and lawsuits, employment and corporate governance issues, products liability claims, and business litigation.
Mr. Clouston's legal track record includes years of practice before the Texas State Securities Board, Financial Industry Regulatory Authority (FINRA), New York Stock Exchange (NYSE), National Association of Securities Dealers Automated Quotations (NASDAQ), and U.S. Securities and Exchange Commission (SEC).
Employers and executives call on Ms. Moseley for her expertise in employment litigation involving non-compete agreements and the protection of trade secrets. She also provides expert counsel on developing effective employee handbooks and policies and complying with state and federal employment laws and regulations issued by the Texas Workforce Commission and the U.S. Equal Employment Opportunity Commission (EEOC).
She earned the moniker "spider monkey" based on her relentless effort to provide the best advice for her clients. Ms. Moseley often handles the entire life span of a dispute, from the litigation avoidance stage through trial and appeals, including work in state and federal appeals courts, the Texas Supreme Court, and the U.S. Supreme Court.
Mr. Clouston is a graduate of Baylor Law School and North Dakota State University. He has served as an adjunct professor and mock trial coach for the Southern Methodist University Dedman School of Law Trial Advocacy Program.
Ms. Moseley is a cum laude graduate of the Southern Methodist University Dedman School of Law. She earned her undergraduate degree at Texas A&M University.
For more information, contact Bruce Vincent at 214-763-6226 or bruce.vincent@muselegalpr.com.