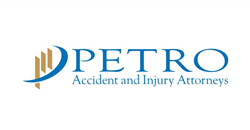 I wish Charles the best in his future endeavors and know that I have his full support and respect moving forward. -Mark Petro, Esq.
HUNTSVILLE, Ala. (PRWEB) January 11, 2021
Attorney Charles Pitman announces his retirement from Pitman and Petro Accident and Injury Lawyers, LLC and the full transfer of law firm ownership to the firm's current managing attorney, Mark Petro. The law firm will also be renamed to Petro Accident and Injury Attorneys. Aside from the change of ownership and name, Mark Petro remains dedicated to helping the current legal team in the office grow individually, personally, and professionally, as well as continuing to create a "wow" experience to everyone who calls the office for assistance after being harmed in an accident.
"I was very excited to join Charles as the managing attorney of our newly established law firm of Pitman and Petro Law back in January of 2020. Just like then, a series of events has resulted in this opportunity of change that we both couldn't pass up. I wish Charles the best in his future endeavors and know that I have his full support and respect moving forward," shared attorney Mark Petro.
Charles Pitman added, "2020 was a year full of challenges that have evolved into new opportunities of growth for Mark and myself. I am confident that Mark's extensive experience and deep understanding of the legal processes in Alabama will continue to guide the firm towards future successes by providing top-level representation to clients in 2021."
The law firm has started the process of transitioning marketing advertisements to the new name. Locals may have noticed the new ads on TV and at Havoc hockey games. Questions? Please contact Mark Petro directly by emailing him at mpetro@letusfight4u.com or by calling 256-269-3709.
About Alabama Personal Injury Lawyers Petro Accident and Injury Attorneys
Attorney Mark Petro has served those injured in an Alabama accident for over 31 years. Mark specifically has provided legal assistance to thousands, helping them get a favorable resolution for their personal injury cases. When his law firm takes on a case, the legal team keeps the client's interests in mind to lead them on the path to success. Those who have been seriously injured or harmed by another party are invited to get in touch with their personal injury legal team in Huntsville, AL for a free consultation today. Call 256-269-3709 or visit LetUsFight4U.com to learn more about how they help the injured in Alabama.
###