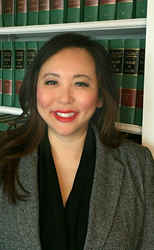 Louisville, KY (PRWEB) March 09, 2017
Su Kang, an attorney who focuses on family law and domestic relations, was recently named by Kentucky Monthly to its Top Attorneys: Outstanding Young Lawyers in Kentucky 2017 list. No stranger to awards, in 2016 Kang was a recipient of the Top 10 Under 40 Attorney Award for the State of Kentucky from the National Academy of Family Law Attorneys.
Kang, a Louisville Bar Association Leadership Academy Graduate, was also voted as one of the top Louisville lawyers in Louisville Magazine. The academy's primary goal is to build a core of practicing attorneys in the greater Louisville area that will lead the legal community ethically, professionally and charitably, with high regard for service to the city and region.
Kang joined Seiller Waterman LLC in 2008 in its family law group following a successful private practice, and now manages the entire family law practice group. Her current practice includes divorce, child support, custody of children, spousal maintenance, division of property and debt as well as domestic violence issues. She received her law degree from Syracuse University College of Law. Prior to law school, Kang obtained a degree in Journalism from Indiana University.
About Su Kang, Seiller Waterman LLC
Attorney Su Kang is licensed to practice in Kentucky and New York and is fluent in Korean. She is a member of the American Bar Association, Family Law and Young Lawyers sections; Kentucky Bar Association, Young Lawyers section; and Louisville Bar Association, Family Law and Young Lawyers sections. Seiller Waterman LLC focuses on family law, litigation, corporate and business law, real estate, employment law, intellectual property, bankruptcy and financial restructuring, estate planning and taxation. For more information, call (502) 371-3538, or visit http://www.derbycitylaw.com. The law office is located at 462 S. Fourth Street, 22nd Floor, Louisville, KY 40202.
About the NALA™
The NALA offers small and medium-sized businesses effective ways to reach customers through new media. As a single-agency source, the NALA helps businesses flourish in their local community. The NALA's mission is to promote a business' relevant and newsworthy events and achievements, both online and through traditional media. For media inquiries, please call 805.650.6121, ext. 361.