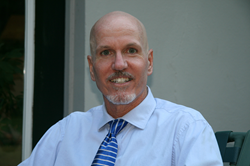 People shouldn't simply accept the insurance adjuster's statement that the damage is solely from storm water because it often is not.
Tallahassee, FL (PRWEB) May 31, 2017
According to a May 25, 2017, Miami Herald article, forecasters are predicting that the Atlantic's 2017 hurricane season will likely be above normal, with 11 to 17 named storms, between five and nine hurricanes and two to four major hurricanes. This will inevitably lead to major property damage, and a plethora of property insurance claims.
"If you need to make a claim because of hurricane damage, most insurance companies are going to try to associate it with water damage," noted attorney Will Haselden, founder of Haselden Law, who primarily focuses on property insurance claims. "Anything they can do to tie your claim to water damage will allow them to lessen or deny your claim. People shouldn't simply accept the insurance adjuster's statement that the damage is solely from storm water because it often is not."
In order to ensure a proper claim, Haselden shares the following three tips:
No. 1: Make sure the outside air conditioner is elevated, along with any valuables. "Keep possessions up above surging stormwater," said Haselden. "Try to minimize your losses from water."
No. 2: Properly cover structures that are not treated as part of one's primary residential area. This can include a dock, pier or outdoor shed. "Most insurance policies are separated into several sections, with section A covering your residential property and section B covering other structures," added Haselden. "Most policies offer vastly more coverage under section A, and will not provide sufficient coverage for other structures under section B. Contact your insurance company and secure more coverage for other structures on your property. This is an argument that you don't want to have later on down the road."
No. 3: Review the policy and know the amount of the hurricane deductible.
"You need to recognize how property insurance companies treat claims," concluded Haselden. "Be prepared to meet their argument before you make a claim."
About Will Haselden, Haselden Law
Will Haselden represents individuals and small companies in injury, insurance and consumer protection cases.Practice areas of Haselden Law include unfair and deceptive trade practices, property insurance disputes, contracts and business actions, personal injury and wrongful death. For more information, please call (850) 567-0020, or visit http://www.haseldenlaw.net. The law office is located at 115 N. Calhoun Street, Tallahassee, FL 32301.
About the NALA™
The NALA offers small and medium-sized businesses effective ways to reach customers through new media. As a single-agency source, the NALA helps businesses flourish in their local community. The NALA's mission is to promote a business' relevant and newsworthy events and achievements, both online and through traditional media. For media inquiries, please call 805.650.6121, ext. 361.