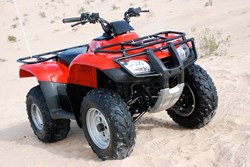 We've helped to pioneer secure searches online for auto insurance this year and have moved into the ATV and motorcycle industry to meet the current demand for owners of these vehicles who need insurance protection
Nashville, Tennessee (PRWEB) November 23, 2013
ATV or all-terrain vehicles remain a form of recreational transportation in the U.S. Owners of these vehicles who require insurance coverage can now use the motorcycle database programmed at the Auto Pros website to find a policy. This system is offering ATV insurance quotations from state and national providers at http://autoprosusa.com/motorcycle-insurance.
The use of ATV vehicles has increased in the U.S. partly due to the amount of suppliers that are now entering the alternative motor vehicles market. Sales of motorcycles, ATVs and other off-road types of vehicles have picked up in demand in many parts of the country.
The arrival of Honda, Nissan and other automakers that are producing ATVs in the U.S. has contributed to the demand, according to the Auto Pros company research. The quotations now supplied for these recreational vehicles are displayed using the database of searchable companies online.
"We've helped to pioneer secure searches online for auto insurance this year and have moved into the ATV and motorcycle industry to meet the current demand for owners of these vehicles who need insurance protection," a source at the AutoProsUSA.com company said.
The programmed system that is being used to help two and four-wheel vehicle owners online now features a zip code entry system for security. This secure system takes the city specific zip code that a person enters who requests an insurance quote and supplies an immediate list of current companies quoting policies.
"Finding insurance using our online tool is expected to do away with the phone quotes methods that some people rely upon to discover policy discounts and actual coverage amounts," the source confirmed.
The Auto Pros USA company motorcycle search system that includes the ATV insurance company quotes online can also be used to find standard motorcycle insurance companies. Owners of Honda, Harley, Indian and other top brands of bikes sold in the U.S. are free to use this system without charge online.
About AutoProsUSA.com
The AutoProsUSA.com company is helping to quote automotive and motorcycle insurance using the dedicated systems installed for all motor vehicle owners to utilize online. The company website has been programmed with these new research tools to improve the access to information for the public. The AutoProsUSA.com company has grown its auto parts referral business over the past two years online and currently features the largest database search program online. The numbers of secondary suppliers that are now working closely with this company is expanded monthly to broaden the available services for the public.