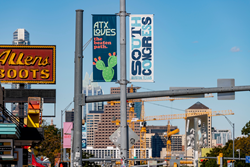 It's not driven by hype, it's driven by love.
AUSTIN, Texas (PRWEB) November 29, 2018
This fall, Austin advertising agency lookthinkmake launched ATXLoves – a three-month tourism campaign funded by a grant from Austin's City Council – to market and promote small and local businesses to visitors coming to Austin. The three-month initiative comes to a close this week, after driving more than 15 million impressions and driving 25,000 unique users to ATXLoves.com, an online experience guide and interactive map that categorizes and highlights Austinites' favorite businesses and activities, through a uniquely Austin lens.
In total, more than 900 local businesses were featured on the site, from neighborhoods and districts across Austin. By aggregating years of local "Best of" lists from the Austin Chronicle, Austin Monthly, Tribeza and the Austin Independent Business Alliance, ATXLoves presents an honest snapshot of the places and people that give Austin its unique magnetic spirit. From Krause Springs to the Austin Rodeo to Franklin's BBQ and everywhere in between, ATXLoves shows a diverse mix of local legends, best kept secrets and locals-only holes-in-the-wall that can be found in all 11 city regions, covering categories like entertainment, retail, food, nightlife and more. Family-owned food trucks are recognized on the same level as nationally award-winning restaurants, and buzzy clubs appear next to stalwart old dives. Austin loves its local businesses, and ATXLoves amplifies and transmits that love to its tourists.
"Once we'd pulled the data from our partners, we had to solve the problem of organizing it all," said Patricia Buchholtz, a partner at lookthinkmake. "Lists are a successful format, but we knew we had to do it a little differently if we wanted to highlight places off the beaten path. By not ranking things as 'top 5 margaritas in Austin' or something, we're able to give a visitor more agency. Rather than make a checklist of things you're obligated to see when you're visiting, we give you a group of local-approved spots and leave the rest up to you. It's not driven by hype, it's driven by love."
ATXLoves features dozens of lists curated by lookthinkmake, highlighting places around Austin connected in unusual ways: Shops and boutiques named after the owners, A-list BBQ spots with short waits for brisket, award-winning restaurants with no dress code, all the best-worst dives and more.
Beyond its in-house curated lists, ATXLoves also features lists of handpicked favorites from over 70 local organizations and Austinites-of-note. Artists, entrepreneurs, bloggers, celebrity chefs and chambers of commerce were asked to contribute a list of their favorite Austin spots. The results were surprisingly personal. Musicians have their favorite venues, photographers their studios, cowboys their dancehalls, Instagrammers their photo-ops and more. Austin leaders took the opportunity to support their communities, lifting up small businesses across the city.
With the site in place, lookthinkmake took to the streets, with broad messaging on banners down South Congress and on Metro buses, signage welcoming visitors to Austin at the airport and posters blanketing the town. Street teams outside Austin City Limits each weekend and at various other popular Austin events distributed shirts, koozies and other swag to spread the word about nearby local favorites. These tactile efforts were combined with a robust digital campaign that targeted both travelers looking at Austin as an upcoming destination and those already in town searching on their phones for the next best place to go. Social media was another prime landscape; armed with an indefatigable hashtag and insights from hundreds of locals and local businesses, ATXLoves is making the rounds online and off.
"We've loved the opportunity to give back to Austin in this way," said lookthinkmake partner Sean Thompson. "We work with dozens of local businesses each year and meet some of the most incredible people who make Austin what it is, and being able to advocate for small businesses on a big-picture scale is so fulfilling. We want to spread the love!"
About ATXLoves
ATXLoves is an online experiential guide to Austin's favorite local businesses funded by a grant developed by the Austin City Council and produced by Austin advertising agency lookthinkmake. ATXLoves.com connects visitors to locally-loved shops, restaurants, attractions and more by aggregating lists of local favorites and personal picks from some of Austin's most in-the-know. To keep the focus on Austin's unique spirit, the guide places an emphasis on the small businesses that are essential in nurturing and maintaining the city's identity and economy.
About lookthinkmake
lookthinkmake is a full-service advertising and public relations agency made up of geeks, artists, teachers, publicists, event planners, writers, and entrepreneurs. We don't work outrageous advertising hours. We do maintain a work-life balance and spend time together outside of work. We could say it's for company culture, or team building, but really it's because we like each other. If there's a common thread at lookthinkmake, it's doing things for the greater good. You'll find no divas or hotshots here—just a talented group collaborating to help our clients grow.