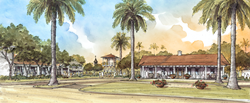 LOS OLIVOS, Calif. (PRWEB) January 28, 2020
Auberge Resorts Collection today announced that The Inn at Mattei's Tavern, the beloved tavern and inn surrounded by vineyards in the buzzing and bucolic Santa Barbara County town of Los Olivos, Calif., will join its portfolio of award-winning luxury hotels, residences and clubs. Building on a legacy dating back to its 1886 origin as a charming stagecoach stop, to its later years as a prohibition-era speakeasy and automobile touring stopover, the country inn will be reimagined as a luxury destination and reintroduced in 2021 as The Inn at Mattei's Tavern, Auberge Resorts Collection, creating a new landmark in the Santa Ynez Valley, an area renowned for its award-winning wineries, scenic countryside and classic California horse ranches.
"We are delighted to welcome The Inn at Mattei's Tavern to the Auberge family," said Dan Friedkin, Owner and Chairman, Auberge Resorts Collection. "The Inn is an incredible heritage property located in one of the most pristine and desirable regions of California's Central Coast. We look forward to transforming it with the world-class service standards, enriching new guest experiences and the outstanding culinary offerings for which Auberge is renowned."
"Auberge has deep roots in California Wine Country that, along with their reputation as the leader in luxury boutique hospitality, make them the perfect partner to manage The Inn at Mattei's Tavern," said Brian Strange, local owner and managing partner of The Inn at Mattei's Tavern. "The Inn has been welcoming guests for generations, and we are excited to introduce a new Auberge guest experience."
Set on 6.5 acres populated with old-growth palm trees and close to the many nearby vineyards, The Inn at Mattei's Tavern originally opened as the Central Hotel in 1886 and served as a popular stagecoach stop during the California gold rush years. Considered the social center of the Santa Ynez Valley from the 1890s to the 1930s, the hotel has remained a lively local landmark, revered and enjoyed for generations.
The refreshed property will feature 67 luxury guestroom and cottage-style accommodations that blend the simplicity of modern farmhouse design with the eclectic style of nearby ranch life. Guests will enjoy a new culinary program that celebrates the seasonal flavors of Los Olivos in varied experiences, from a coffee bar porch to an open-air restaurant with a county fair energy. The Inn will include an outdoor pool with a welcoming poolside bar, cabanas and firepits, a signature spa, and modern indoor-outdoor event spaces that perfectly suit weddings and other gatherings that desire a sophisticated country-inspired setting.
The development team includes Santa Barbara-based architecture firm DMHA and the West Coast office of the ever-creative AvroKO in San Francisco.
Located in the heart of Los Olivos, The Inn at Mattei's Tavern will celebrate the relaxed attitude and pioneering spirit of the Santa Ynez Valley. The area features more than 70 world-class wineries, panoramic views, wide open roads and, just 30 minutes away, Santa Barbara and the Pacific Ocean. Los Olivos is home to 30 wine-tasting rooms, restaurants, art galleries and one-of-a-kind boutiques, and is a 2.5-hour drive from Los Angeles, making it the perfect weekend destination for wine lovers and others who appreciate the pristine beauty of California's Central Coast.
Plans call for The Inn at Mattei's Tavern to reopen in 2021. To learn more, please visit aubergeresorts.com/matteistavern/.
About Auberge Resorts Collection
Auberge Resorts Collection is a portfolio of extraordinary hotels, resorts, residences and private clubs. While each property is unique, all share a crafted approach to luxury and bring the soul of the locale to life through captivating design, exceptional cuisine and spas, and gracious yet unobtrusive service. With 19 hotels and resorts across three continents, Auberge invites guests to create unforgettable stories in some of the world's most desirable destinations. For more information about Auberge Resorts Collection, please visit aubergeresorts.com. Follow Auberge Resorts Collection on Facebook at facebook.com/AubergeResorts and on Twitter and Instagram at @AubergeResorts and #AlwaysAuberge.
About The Friedkin Group
The Friedkin Group is a privately held consortium of automotive, hospitality, entertainment, golf and adventure companies. These organizations include: Gulf States Toyota, GSFSGroup, GSM, US AutoLogistics, Ascent Automotive Group, Auberge Resorts Collection, Imperative Entertainment, 30WEST, NEON, Diamond Creek Golf Club, Congaree and Legendary Expeditions. The Friedkin Group is led by Chairman and CEO Dan Friedkin. For more information, visit http://www.friedkin.com.
About DMHA
DMHA is an award-winning Santa Barbara-based architecture and interior design firm. The company has designed commercial, residential and mixed-use properties primarily on the West Coast. DMHA provides a full suite of services across all aspects of a properties design and development, including site planning, building analysis, cost analysis, architectural design, interior design, FF&E specifications, construction administration and sustainability.
About Brian Strange
Brian Strange is local owner and managing partner of The Inn at Mattei's Tavern. Brian, his wife Shamra and family are founders of Strange Family Vineyards a winery specializing in Sparkling, Pinot Noir and Chardonnay.