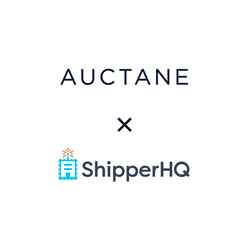 AUSTIN, Texas (PRWEB) February 03, 2021
Auctane, home of the world's leading e-commerce shipping solutions, today announced a new partnership with ShipperHQ, a shipping rate management platform that helps retailers tailor their checkout experience to their own unique products and customers.
The new partnership will offer customers of Auctane brands ShipStation and ShipEngine convenient delivery choices that help with both cost and convenience including in-store pick-up, same-day delivery, and increased transparency about delivery dates from top carriers. Merchants will also be able to automate and streamline shipping processes, packaging offices, and delivery fees with custom in-cart shipping rules. In addition to offering more control and visibility for consumers, merchants will now benefit from reduced friction in the checkout process, lower shipping costs, and access to a team of shipping experts to guide long-term strategies and improvements. The integration will roll out in three phases. The first, which includes ShipperHQ leveraging ShipEngine APIs for labels, began on October 1.
"Paired with ShipStation's shipping management capabilities and ShipEngine's APIs for labels, the ShipperHQ integration will help e-commerce merchants take full control of their customers' checkout experience, ultimately furthering our mission of providing solutions that solve the complex challenges of global shipping and logistics," said Todd Wilkens, Chief Product Officer, Auctane. "The breadth of ShipperHQ's functionality makes it stand out in the market, which is why we're excited to add them to our extensive partner network."
By combining ShipperHQ's shipping rate management platform with label APIs from ShipEngine and ShipStation's post-purchase shipping management solution, users will be able to create an end-to-end shipping experience that drives sales, saves shoppers money, and delivers on customer expectations. The integration builds on ShipStation's recently announced in-cart delivery options capabilities, adding enhanced features, deeper insights, and additional options for automation that will cut down on the time spent on shipping and fulfillment, and allow users to execute a shipping strategy that aligns with their business goals. With 50% of consumers citing hidden extra costs, such as shipping, as one of the main reasons for cart abandonment, updating costs in real-time through live rating via a platform like ShipperHQ is one of the easiest ways to mitigate this issue.
"This partnership with Auctane is truly a game-changer for the industry," said Karen Baker, CEO of ShipperHQ. "Previously, retailers had to shop around for technologies to take control of their checkout optimization, label printing, order management, and any other unique needs they require around shipping. Merchants have long looked for a shipping solution that enables them to manage all of these steps in one place - and now they finally have it. The power of ShipperHQ and Auctane together enables them to manage their shipping strategy and experience from start to finish all within a single platform."
To be notified when the ShipperHQ / ShipStation Integration is ready, please visit; https://info.shipstation.com/shipperhq-interest-form
About ShipperHQ
ShipperHQ's shipping rate management platform helps e-commerce merchants take control of the checkout experience on their website. Easily tailor your shipping rates and options to the exact buying scenario that's happening, taking into account information like what products are being purchased, where a customer is located and how much they are spending. Through our advanced features, you can use shipping as a marketing tool and create rules based on real-world logic, be upfront to customers about when packages will arrive, plus reduce friction at checkout and during fulfillment by automating your shipping processes. Because we integrate with 50+ small package and LTL freight carriers, you can get live rates every time and provide your customers with the most accurate shipping prices possible. ShipperHQ is headquartered in Austin, TX with global offices in the U.K. and Australia.
About Auctane
Every day, the complex challenges of global shipping and logistics bring growing pains that fast-growing online brands struggle to negotiate. Getting products into the hands of customers quickly and affordably is a challenge for most. At Auctane, we serve and champion these merchants every day. Our software stack solves shipping and logistics problems that arise as merchants scale, so they can focus their time, energy, and resources on what matters most. Auctane is a team of shipping and software experts with a passion for helping merchants move their ideas, dreams and innovations around the globe. The Auctane family includes ShipStation, ShipWorks, ShipEngine, and ShippingEasy. Our partners include Amazon, UPS, USPS, eBay, BigCommerce, Shopify, WooCommerce, and Walmart. A wholly-owned subsidiary of Stamps.com (Nasdaq: STMP), Auctane is headquartered in Austin, TX, with offices in St. Louis, London, and Sydney.