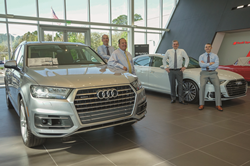 "Our staff is dedicated to properly representing the Audi brand," said Brinkmann, "and I want to recognize the outstanding Audi Gainesville employees who helped us become a Magna Society Award Winning dealership. It's a team effort, every day."
GAINESVILLE, Fla. (PRWEB) March 15, 2019
Audi Gainesville was recognized as one of the most outstanding Audi retailers in the U.S. by earning the 2018 Magna Society Award. For a dealership to earn this distinction, they must exceed benchmarks for both customer service and business performance.
"It's exciting to see more of our dealer partners earn a Magna Society award each year, demonstrating a commitment to delivering premium customer service," said Cian O'Brien, Chief Operating Officer of Audi of America. "The growing strength of the Audi dealer network in the U.S. remains a key factor contributing to the brand's performance."
Thomas Brinkmann, General Manager of Audi Gainesville, said, "We're pleased to offer one of the most successful luxury automobile brands in the world right here in Gainesville, and to be a part of the 50 years of the Audi brand in the U.S. But most of all, we're really happy that our customer-focused approach allowed us to be recognized for delivering an exceptional level of customer service. That translated into strong business performance."
Audi Gainesville was one of only 161 dealers across the country to earn Magna Society award status. By supporting the goals established to provide customers with an exclusive brand experience, Magna Society dealerships demonstrate a commitment above and beyond simply meeting standard business objectives and sales targets.
"Our staff is dedicated to properly representing the Audi brand," said Brinkmann, "and I want to recognize the outstanding Audi Gainesville employees who helped us become a Magna Society Award Winning dealership. It's a team effort, every day."
###
About Audi Gainesville
Audi Gainesville is located at 1920 North Main Street in Gainesville, Florida. The 29,000 square foot state-of-the-art dealership sells and services the full line of Audi automobiles, a brand representing the pinnacle of luxury performance, intuitive technology, and efficient operation to minimize environmental impact.
About Warren Henry Auto Group
Warren Henry Auto Group has been in the automotive business in Florida for more than four decades. Today, the automotive group sells and services brands like Lamborghini, Bugatti, Koenigsegg, Jaguar, Land Rover, and Infiniti, in Miami-Dade & Broward Counties, as well as Audi in Gainesville and Toyota, Ford, Chrysler, Dodge, Jeep and RAM in Key West, Florida. Warren Henry dealerships employ almost 400 people statewide. A new state-of-the-art headquarters for the Warren Henry Auto Group is currently under construction in North Miami on Biscayne Boulevard at SoLe Mia, a $4 billion, 183-acre multi-purpose master planned development.