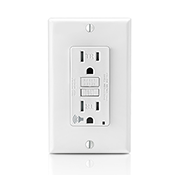 When a condition exists causing the SmartlockPro Slim GFCI with Audible Alert to trip, users will be alerted by the sounding of an audible alarm.
Farmers Branch, TX (PRWEB) December 17, 2014
The SmartLockPro Slim GFCI with Audible Trip Alert by Leviton is now available at TheHardwareCity.com. The receptacle is 15 Amp and 125 Volts. It comes complete with screws, a self-grounding clip, and a nylon wall plate. Customers of the online hardware store can conveniently shop from their home or office and have quality and innovative items such as the new receptacle delivered directly to them.
SmartLockPro Slim GFCI provides a smart solution for an age-old problem. GFCI protection is a must in commercial and residential buildings. It interrupts the power when an imbalance in the flow of current is detected, through water or a person. The technology can save lives by preventing electrical shock. Traditional GFCI outlets may turn power off without the owner knowing and could shut down necessary equipment for a long period of time. Also, many receptacles are out of view in commercial kitchens, basements, or garages, making visual checks for tripping less possible. The new GFCI outlet by Leviton has an audible trip alert, bringing attention to circuits that have been tripped and helping individuals to fix the situation sooner.
The slim profile of the new GFCI outlet allows it to be installed in a regular wallbox and even in shallow boxes. It is temper-resistant to meet the latest requirements for child safety and it meets the NEC regulations for basements, garages, commercial kitchens, and other critical loads. Currently, the SmartLockPro Slim GFCI with Audible GFCI Trip Alert is available at a price lower than retail price on TheHardwareCity.com
About TheHardwareCity.com:
TheHardwareCity.com is a leader in home improvement supply. Since 2007, the online hardware store has expanded and grown to include thousands of innovative products. Products from every department are included in their catalog, from electrical to bath accessories. Experts are available to answer questions about any product through the website's online chat or by phone. Visit http://www.thehardwarecity.com/ to view the latest in home improvement products and to take advantage of the company's low prices.