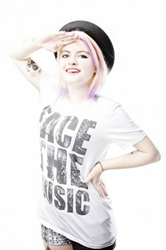 The wealth of knowledge and opportunities for aspiring audio professionals that are available at Ex'pression College are rare, and I want to take advantage of all of it.
San Jose, CA (PRWEB) February 17, 2015
Tess Dunn, a Sound Arts student at Ex'pression College's San Jose campus, will be completing a two-month performance residency at Streetlight Records in San Jose on Saturday, February 21. Dunn is the first music artist to be invited by Streetlight for such an engagement, which featured performances by Dunn of music from "Daydreamers", her critically acclaimed 2014 EP release (available on CD Baby, iTunes, and Amazon).
Streetlight Records, which has three locations in northern California, is one of America's premier retailers of vinyl, CDs, and DVDs. The chain's locations in Santa Cruz and San Jose feature live in-store concerts by both local and national recording artists.
"I'm honored that Streetlight Records selected me as their first residency artist," says Dunn, whose residency began in January and has included three performances, with the show on 2/21 to be the fourth and final. "I've had a blast sharing my music with their audience, and I've been fortunate to meet very cool people who've enjoyed my songs."
A native of Santa Cruz, Dunn was inspired to begin piano lessons at five years old by her mother, who's a pianist. While mastering the piano, Dunn also taught herself to play the guitar and ukulele, and began writing songs at age 11. She released her first EP "Darling Just Walk" in 2009, and followed up with "Honesty Box" in 2012 and "Daydreamers" in 2014, which was recorded at Jackpot! Studio in Portland and engineered by Sean Flora (The Black Keys, The Shins, Stephen Malkmus, David Cross).
Dunn discovered Ex'pression College from her uncle Mike Russell, who teaches Graphic Design & Motion at Ex'pression's Emeryville campus. In 2011, Russell suggested that Dunn submit one of her songs for consideration as a music video production project that his students needed to create. The song, "Shame to See" from Dunn's EP "Honesty Box", was selected. The resulting student-produced video featured a performance by Dunn and her band. It was a hit in the Bay Area and was featured at the SAP Center in San Francisco during 99.7 Now/ KMVQ-FM's sold-out Triple Ho Show 2.0.
Seeing how valuable Ex'pression was for her musical career, Dunn decided to enroll in the school's new Sound Arts program at its San Jose campus in September '14. She'll be graduating in May '17 with a Bachelor's Degree in Sound Arts.
"I want to begin producing and engineering for myself and other artists, which is precisely why I'm attending Ex'pression," says Dunn, who's a six-year veteran of the San Francisco Vans Warped Tour and has gigged all along the West Coast, from San Diego to Seattle. "The wealth of knowledge and opportunities that are available here are rare, and I want to take advantage of all of it."
Dunn's advice for her fellow Ex'pression students is simple: never let any obstacles dissuade you from doing what you love.
"You'll hear 'no' a lot as your pursue your goals, and that's the name of the game," says Dunn. "But if you believe in and are passionate about what you're doing, you can find a way to keep moving forward. I have cystic fibrosis, epilepsy, and diabetes, and it's a handful, to say the least. If I listened to everybody who told me that my health issues were going to prohibit me from achieving all that I want to do, I would have stopped pursuing my dream of a music career years ago. Keep pushing and keep learning - you can do it!"
About Ex'pression:
Ex'pression College is a digital arts college in California's San Francisco Bay Area, offering Bachelor of Applied Science degrees in Sound Arts, Interactive Audio, Graphic Design & Motion, Digital Filmmaking, Animation & Visual Effects, and Game Art & Design. If you're an artist looking for a creative and inspirational environment to cultivate your passion, take a look at Ex'pression College! Our courses are accelerated, our class sizes are limited, and our faculty is staffed with experienced industry professionals. At our schools, you'll use professional-grade equipment and facilities, and receive a hands-on educational experience in working environments that emulate the industries you'd love to be a part of. Learn more at expression.edu