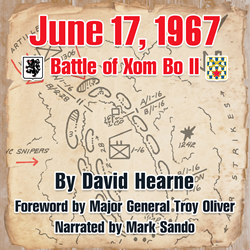 Narrator, Mark Sando, did a moving performance in his reading of my book, June 17, 1967 – Battle of Xom Bo II.
Houston, Texas (PRWEB) May 17, 2017
Subterfuge Publishing is proud to announce the Audiobook adaptation of "June 17, 1967 – Battle of Xom Bo II." The audiobook is a collaboration between narrator, Mark Sando and author, David Hearne. Mark Sando's professionalism, creativity, and personality delivers another layer of authenticity to Hearne's award winning book. Author, David Hearne, who has been battling cancer for the last 5 months was grateful that he had partnered with Mark Sando as the narrator because as Hearne said, "Mark is a voice actor who can run with an audio book project on his own and deliver a superb audio version of a book with little input from the author." Hearne also stated, "Narrator, Mark Sando, did a moving performance in his reading of my book, June 17, 1967 – Battle of Xom Bo II." The AudioBook is now available on multiple platforms including Amazon.com, Audible.com, and iTunes.
On the occasion of the battle's 50th Anniversary the audiobook, June 17, 1967 -Battle of Xom Bo II, tells the true story of a battle that pitted less than 500 1st Infantry Division soldiers against 800 to 2000 Viet Cong from the 271st Regiment. The bloody clash took the lives of 39 Americans and seriously wounded 150 more. It is the minute-by-minute story of what happened that day in the steamy jungle and the story of the men who fought so valiantly to survive the ambush. It is the story of the loved ones left behind and the wounded who struggled to become whole again. It's a story that is the result of talking to many of the survivors of the battle and the wives, brothers, sisters, or friends of those who were there when over 8000 artillery rounds rained down around LZ X-Ray to dislodge the entrenched Viet Cong. June 17, 1967, is a story of war, men, and the loved ones. It is the story of the youth, culture, and happenings that made the battle of Xom Bo II such an enigma for the summer of love in 1967.
The audiobook of, June 17, 1967 – Battle of Xom Bo II will have special appeal to 1st Infantry Division veterans that were a part of Operation Billings at landing zone X-Ray. Specifically, members of the Black Lions 2/28th, Rangers 1/16th, Vanguards 1/18th and other veterans of the 1st Infantry Division will appreciate this telling of their story of the devastating battle that happened 50 years ago in the Vietnam jungles about 47 miles northeast of Saigon.
Narrator Mark Sando, who is from Burnsville, Minnesota, a southern suburb of Minneapolis, has numerous audiobook narration credits under his belt which include Trans-Siberian Express by Warren Adler, Midway Inquest: Why the Japanese Lost the Battle of Midway (Twentieth-Century Battles) by Dallas W. Isom, The Cooper Saga 07 (Stories 61-70) by Bill Bernico, We Fight for Peace: Twenty-Three American Soldiers, Prisoners of War, and Turncoats in the Korean War by Brian D. McKnight and Cold Comfort by E. Abernathy. Sando, served in the Marines between 1974 and 1978 and after his discharge spent many years as an engineer in an aerospace company.
David Hearne is the author of two novels, "The Christmas Special," "Hulagus's Web," and a book of short horror stories titled "Bloodstained Tales of Sin and Sex." Hearne has won multiple awards for his work. June 17, 1967 – Battle of Xom Bo II, won first place from the Texas Association of Authors for non-fiction wartime and had also won awards at the New England Book Festival, The London Book Festival and the Florida Book Festival. He has also won numerous awards from the Southeast Texas Press Club. Hearne is currently working on a book about his battle with Metastatic Squamous Cell Neck Cancer. David Hearne and his wife currently own and operate the Book Nook Inn bed and breakfast in Lumberton, TX. Hearne can be contacted by email at David(at)david-hearne(dot)com, or you can read more about him at http://www.david-hearne.com