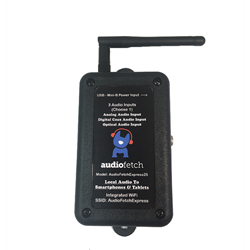 Our wireless audio streaming technology helps families and couples create a more peaceful and enjoyable environment while we're all spending more time at home."
DENVER (PRWEB) October 29, 2020
AudioFetch, a tech subsidiary of 20-year industry veteran Broadcastvision Entertainment, has launched a new wireless audio streaming solution for home use, AudioFetch Home.
"We recognize that entire families are struggling to maintain a peaceful and enjoyable home experience these days," says Tim DePumpo, CEO and Founder of AudioFetch. "After serving commercial businesses for two decades, we knew our technology could help families and couples too, creating a more pleasurable environment while we're all spending more time at home."
AudioFetch Home broadcasts audio to smartphones or tablets via the free AudioFetch app. It offers built-in WiFi for seamless connection, or can be used with an existing wireless network. Setting up the AudioFetch Home system is simple, and doesn't require any technical or AV expertise. Setup is accomplished in three steps: 1. Plug AudioFetch Home into TV, computer or other audio source; 2. Download the AudioFetch app; and 3. Connect to the appropriate wireless network. The AudioFetch app will start streaming the TV or other audio immediately, and up to four people can listen simultaneously.
"It's difficult to hear the TV when I'm on my treadmill, and AudioFetch fixes that issue. My whole family uses it every day," says Robert Howard, an AudioFetch customer since March of 2019. "We also have used it for social distanced backyard movie nights with an inexpensive projector and Roku/Apple Tv. It's been awesome to have some sense of community while still staying safe during the pandemic."
AudioFetch has historically provided assistive listening solutions and audio entertainment options for commercial organizations around the world, including Anytime Fitness, YMCA, Cornell University, Hilton Hotels & Resorts, United States Coast Guard Academy, Walmart corporate headquarters, and numerous other fitness centers, sports bars, houses of worship and other venues.
For more information visit https://www.audiofetch.com/venues/home-audio-solution/ or call 1-844-443-3824.