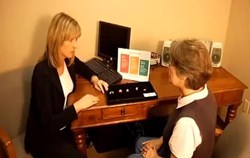 I have complete trust and confidence in your skills and expertise. I wouldn't go anywhere else.
Charleston, SC (PRWEB) July 25, 2013
Advanced Hearing Care has created a new feature video for their website home page highlighting their award-winning care. Advanced Hearing Care, located in Mt. Pleasant SC, is the oldest and most established audiology practice East of the Cooper providing superior audiological services and hearing aids in Charleston SC. The video features Advanced Hearing Care president and audiologist Dr. Mary Anne Larkin describing her caring, collaborative approach to patient care and the significance of the prestigious award. Advanced Hearing Care is one of only 5 audiology practices nationwide that have received the National Clinical Practices of Excellence Award given by the Academy of Doctors of Audiology. Dr. Larkin was also the 2005 recipient of The Leo Doerfler Award also awarded by The Academy of Doctors of Audiology. The Leo Doerfler Award is awarded to recognize an audiologist who has demonstrated outstanding clinical services in the community throughout her career. The new video will help draw attention to these awards and can be viewed on the practice's website and YouTube channel.
About Dr. Mary Anne Larkin
Dr. Mary Anne Larkin has been in the audiology profession since 1983. She received her Doctorate degree in Audiology from the University of Florida. She is board certified by the American Academy of Audiology and is a Fellow of the Academy of Doctors of Audiology and the South Carolina Academy of Audiology.
Dr. Larkin has served on numerous audiology committees and boards on a state and national level and has served as a past president for the South Carolina Academy of Audiology. She has been a public speaker at various regional and national professional conferences. She has also published numerous articles on audiology private practice issues. Dr. Larkin actively participates in hearing health issues on local, state and national levels and has received awards for her work promoting better hearing in the community. She was named "Audiologist of the Year" for 1999 by the Audiological Resource Association and received the "Elizabeth P. Wade Outstanding Audiologist of South Carolina" for 2004. Dr. Larkin received the 2005 Leo Doerfler Award from the Academy of Doctors of Audiology for Best Clinical Practices.
Dr. Larkin resides in Mt. Pleasant with her husband, Brian, two daughters, Lindsay and Allie and their toy poodle, Buddy. She enjoys playing tennis and the arts.
Contact:
Advanced Hearing Care
900 Johnnie Dodds Blvd, Ste 101
Mount Pleasant, SC 29464
(843) 628-4844
http://advhearing.com