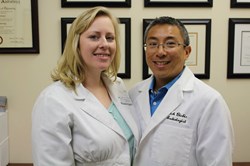 Geneva, IL (PRWEB) December 31, 2013
Geneva Hearing Services has launched a blog on the company website to share hearing health advice with local residents on an ongoing basis.
The audiologists at Geneva Hearing Services have created a long list of subjects for the blog section. The blog article content will cover anything from proper hearing aid maintenance, to new developments in hearing aid technology, to detecting hearing loss in children, and answers to frequently asked questions. New article will be published every week and distributed automatically to Geneva Hearing Services' social media pages to reach a wider audience.
Geneva Hearing Services is encouraging everyone who wears hearing aids in Geneva IL as well as all former and current patients to visit the blog regularly. Currently, the blog only contains a handful of articles, but it will expand rapidly over time. Here are just a few examples of articles already published:

Pluses and Minuses of Open Fit Type Hearing Aids
Which Hearing Aid Designs Work Best for Kids?
The Causes and Treatment of Conductive Hearing Loss: An Overview
Prevalent Medications and Drugs on the Ototoxic List
To be responsive to the needs of Geneva IL residents, Geneva Hearing Services encourages anyone with hearing loss or who wears hearing aids in Geneva IL to submit additional category or topic suggestions.
About Dr. Maria Morrison AuD:
Dr. Maria Morrison is a licensed Illinois audiologist having earned her doctorate degree from the Pennsylvania College of Audiology in 2006. Before joining Geneva Hearing Services, Dr. Morrison obtained extensive clinical audiology experience in a hospital setting and as part of a private ENT practice. In addition to providing a full range of diagnostic services to discover the source of a person's hearing loss and fitting patients with hearing aids, where appropriate, Maria is one of the few audiologists in Illinois who is qualified to offer Tinnitus Retraining Therapy.
About Geneva Hearing Services
Geneva Hearing Services provides hearing healthcare to residents of Geneva, IL and surrounding communities. With four audiologists on staff, Geneva Hearing Services is able to offer the full range of audiology services including diagnostic services, preventive services and the fitting of hearing aids. For its hearing aid patients, Geneva Hearing Services offers counseling, adjustments, and regular hearing aid cleanings. Geneva Hearing Services is committed providing the latest technological advancements in the hearing industry from major manufacturers and to providing a pressure-free buying experience.
Geneva Hearing Services
http://genevahearing.com
Geneva Hearing Services
637 W State St
Geneva, IL 60134
(630) 618-2419