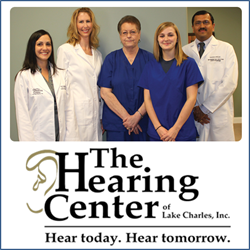 Lake Charles, LA (PRWEB) September 04, 2013
Researching hearing aids can be confusing and challenging because manufacturers launch new models and styles every couple of months as the technology changes and improves. It is not atypical for a first-time hearing aid buyer to spend a lot of hours online searching for credible and current information before making a first appointment with an audiologist because they want to be prepared to ask the right questions and know the basics.
For people that want unbiased facts about what to expect when shopping for a hearing aid, the Hearing Center of Lake Charles website now offers a fact-filled booklet titled The Guide to Better Hearing on their website. The guide, produced by the non-profit Better Hearing Institute, is available for free, instant download at http://www.hearingmatters.biz/guide-to-better-hearing/.
Audiologist Dr. Ram Nileshwar and the entire staff at The Hearing Center of Lake Charles hope that anyone seeking information about hearing aids in Lake Charles, Louisiana will download the guide and contact them directly with any further questions.
About Dr. Ram Nileshwar Au.D.
Dr. Ram Nileshwar has been a practicing audiologist in Lake Charles for over 29 years. He has been with The Hearing Center of Lake Charles since its inception in 1987. He received his Bachelor's degree in Audiology and Speech Therapy from the University of Bombay, India, his Master's degree in Audiology from Western Michigan University, and his Doctor of Audiology degree (Au.D.) from Arizona School of Health Sciences of A.T. Still University. Dr. Nileshwar holds the Certificate of Clinical Competence in Audiology from the American Speech-Language-Hearing Association and is a fellow of the American Academy of Audiology. He specializes in hearing rehabilitation, including the fitting of both conventional and advanced digital hearing devices. He has expertise in diagnostic audiology, including the evaluation and management of disorders of hearing and balance.
About The Hearing Center of Lake Charles, Inc.:
The Hearing Center of Lake Charles, Inc. has provided hearing aids in Lake Charles, LA and its surrounding communities for several years. The company offers a full range of diagnostic and preventative hearing healthcare professional services, including hearing aid screening, evaluations, hearing aids sales and rehabilitative and preventative counseling. The staff is dedicated to keeping abreast of the latest improvements in technological advancements in the hearing industry and is committed to offering the most current options to the patients.
Contact:
Dr. Ram Nileshwar
http://hearingmatters.biz
The Hearing Center of Lake Charles, Inc.
1919A Southwood Drive
Lake Charles, LA 70605
(337) 214-4422
The Hearing Center of Lake Charles, Inc.
801 S Pine St.
DeRidder, LA 70634
(337) 214-4422