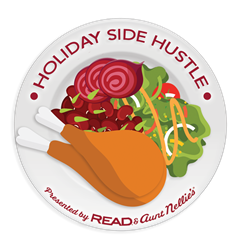 "The holidays can be really stressful. So, we've designed our Holiday Side Hustle program to add helpful tips and recipes right when they're needed" said Julia Storie, marketing administrator for Aunt Nellie's and READ.
CHICAGO (PRWEB) November 24, 2020
When it comes to the holidays, side dishes are often the heroes of the meal. The bird gets a lot of the attention, but it's the side dishes that can make – or break – a meal.
That's why Aunt Nellie's and READ Salads, two iconic American brands, are teaming up to share inspirations, suggestions, and festive recipes to make the Holiday Side Hustle fun and delicious. Consumers will find interactive videos with popular cookbook author and food blogger Tara Teaspoon, as well as opportunities to share their own stories and recipe tips. Each week READ and Aunt Nellie's will have giveaways including free product packs, Tara Teaspoon's Live Life Deliciously cookbook and digital gift cards via their Facebook and Instagram pages. Timely themes include:

Nov. 24: Tara Teaspoon's Side Hustle Heroics on Instagram TV
Dec. 1: Holiday Hustle Helpers, starring consumer tips on time management
Dec. 8: Changing Up the Cookie Exchange: how to safely swap sweets this season
Dec. 15: Holiday Breakfast Hustle
Dec. 22: Festive Fare by Tara Teaspoon: new recipes and holiday Q&A with Tara
Dec. 29: Holiday Sparkle: new recipe videos to end the year deliciously
"The holidays can be really stressful. So, we've designed our Holiday Side Hustle program to add helpful tips and recipes right when they're needed" said Julia Storie, marketing administrator for Aunt Nellie's and READ. "We're especially thrilled to be partnering on this program with Tara Teaspoon, whose recipes and tips will inspire and empower home cooks to create delicious dishes for every holiday occasion."
Aunt Nellie's, America's premier maker of jarred beets for more than 90 years, is named for Ms. Nellie Jones, a nationally recognized pioneer in home economics who championed rural homemakers, bringing them the latest scientific research through her role as state leader of the Home Economics Extension. Aunt Nellie's makes jarred beets and onions in multiple cuts, styles and flavors. READ® Salads offer three convenient, ready-to-eat, salad choices that taste like homemade including 3 and 4 Bean Salad, and German Potato Salads plus single-serve cups of 3 Bean Salad. All READ and Aunt Nellie's products are shelf-stable and gluten free. Aunt Nellie's and READ are owned by Seneca Foods Corporation, based in Marion, NY.
Here's an example of a Holiday Hustle side dish recipe - Shortcut Potato Cheese Casserole by Tara Teaspoon. For more great recipes, follow Aunt Nellie's and READ on Instagram, Facebook and Pinterest @auntnelliesvegetables and @readsalads to participate in the Holiday Side Hustle!
SHORTCUT POTATO CHEESE CASSEROLE
Courtesy of: Tara Teaspoon
Preparation time: 25 minutes
Cook time: 30 minutes
1 tablespoon unsalted butter
1 tablespoon all-purpose flour
1 cup whole milk
1/4 teaspoon kosher salt
1/4 teaspoon garlic powder
1/4 cup (1/2 ounce) finely grated Parmesan
1-1/2 cups (6 ounces) shredded sharp Cheddar cheese, divided
1/4 teaspoon dried thyme leaves (or 1/2 teaspoon fresh)
1/4 teaspoon dried parsley (or 1/2 teaspoon chopped fresh)
3 cans (15 ounces each) READ German Potato Salad
3 tablespoons panko breadcrumbs
1. Heat oven to 375° F.
2. In a medium saucepan over medium heat, melt butter and flour together. Whisk in milk, salt and garlic powder and increase heat to medium-high. Bring to a simmer, stirring constantly. When milk thickens after about 2 minutes, stir in Parmesan and 1 cup of the sharp Cheddar.
3. Remove from heat and stir until cheese is melted and mixture is smooth. Stir in thyme and parsley. Gently stir in the cans of READ German Potato Salad.
4. Transfer mixture to a 2-1/2 to 3-quart baking dish. Arrange some potato slices in rows of shingles on top if desired.
5. Bake casserole until heated through and bubbling, 25 to 30 minutes. Heat broiler to high.
6. Top casserole with remaining 1/2 cup of shredded sharp Cheddar and the breadcrumbs. Place under the broiler and cook until top is dark golden, and breadcrumbs are getting crisp, 1 to 2 minutes.
7. Serve hot, topped with extra herbs if desired.
Notes
Save time by using READ German Potato Salads in cans. This cuts your prep time in half for a cheesy potato casserole side dish.
Makes 6-8 servings.
Nutrition information per serving (1/6 of recipe): 199 calories; 11g protein; 7g carbohydrate; 14g fat; 407mg sodium; 42mg cholesterol; 1g dietary fiber; m1g iron; 444IU vitamin A.