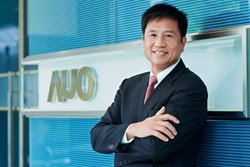 HSINCHU, Taiwan (PRWEB) July 02, 2020
AU Optronics Corp. ("AUO" or the "Company") today announced that its Chairman and CEO Paul Peng has been recognized with the industry's prestigious SID David Sarnoff Industrial Achievement Prize, marking his exceptional efforts and continuous contribution in advanced display technologies to the global display and tech industry.
The David Sarnoff Industrial Achievement Prize, hosted by the Society for Information Display (SID), is designed to honor an individual broadly recognized across the industry for having achieved distinguished leadership and long-lasting impact. As the winner of this highly sought after award, Peng stood out among key industry figures for his leadership in developing and commercializing display technologies, and promoting corporate social responsibility, industrial alliance, and green manufacturing.
"Chairman Peng has been a guiding force behind many of the display industry's technical advances and value transitions. He has also dedicated himself to promoting supply chain integration and fortifying industry strengths for the Taiwan optoelectronic industry to establish its competitive edge," said Dr. Janglin Chen, SID Fellow and Research Fellow at Taiwan's Industrial Technology Research Institute. A seasoned display industry professional for three decades, Peng spent over one-third of his career abroad. During the period he cultivated international perspective and insight, and led to build AUO's first overseas manufacturing base in Suzhou, China. In 2015, Peng was promoted to AUO's Chairman and CEO. By proactively promoting value transformation, accelerating technological innovations, smart manufacturing, and enhancing product value and differentiation, AUO has emerged as a leader in the global market share of high-end product applications and become the industry's leading value creator. Furthermore, AUO has extended its value chain to develop smart display applications, and integrated AIoT and novel technologies to seize new opportunities from digital transformation, building new ecosystems across diverse verticals while creating enhanced value with its industry partners.
In addition to being a managerial expert, Peng also deeply cares for humanity and culture, and is devoted to combining CSR within his business strategies, contributing significant efforts to the harmony between environmental sustainability, technology and history. Under Peng's leadership, AUO has been committed to making common cause with the UN SDGs by formulating three major dimensions of AUO EPS (Environment, People & Society) to address environmental and societal issues. AUO's pursuit of sustainable business practices has received global affirmation, including listing on the DJSI World Index for the past decade, and the Bloomberg Gender Equality Index for three consecutive years. Going beyond to create shared values, AUO has engaged supply chain partners in its efforts to build a CSR ecosphere together. The Company's new businesses also center on circular economy, actively supporting Taiwanese businesses to operate in a more environmentally friendly manner.
Always aspired to contribute more, Peng orchestrated industry players to form the Taiwan Display Union Association (TDUA). As TDUA's Founding Chairman and incumbent Chairman of Taipei Computer Association (TCA), Peng has spared no effort to strengthen the industry's international presence. "Through concerted efforts over the past decades, a solid manufacturing base has been built in Taiwan for advanced technologies to thrive," Peng observed. "Now, amid market uncertainties, it's time for us to work as a team to accelerate value chain integration across verticals, and reach out globally by means of established ecosystems to fortify our industry foothold."
Peng holds an MBA Degree from Heriot-Watt University, U.K. and honorary degree of Doctor of Business Administration from National Taipei University of Technology. He is the recipient of the first annual GCSA – Professional Award from Taiwan Institute for Sustainable Energy (TAISE). Work aside, he is a certified saxophone street artist in Taiwan, and founder of the WOW SAX band, consisting entirely of AUO executives who donate proceeds from their performances to good causes.
Chairman Peng interviewed in the Special Issue of Information Display: SID Honors Industry Icons and Innovators:
https://onlinelibrary.wiley.com/doi/full/10.1002/msid.1101
AUO photos can be downloaded at the Company's website:
https://auo.com/en-global/Download_Photos
Any use of photographs must cite the source thereof as AU Optronics Corporation.
ABOUT AU OPTRONICS
AU Optronics Corp. ("AUO") is one of the world's leading providers of optoelectronic solutions. Based on its profound R&D and manufacturing experience, AUO offers a full range of display applications and smart solutions integrating software and hardware, and leverages its core expertise to enter new business areas such as solar, smart retail, general health, circular economy and smart manufacturing service. Additionally, AUO has also been named to the Dow Jones Sustainability World Index since 2010. AUO's consolidated net revenues in 2019 were NT$268.79 billion. For more information, please visit AUO.com.
Safe Harbour Notice
AU Optronics Corp. ("AUO" or the "Company"), a global leader of TFT-LCD panels, today announced the above news. Except for statements in respect of historical matters, the statements contained in this Release include "forward-looking statements" as defined in the Private Securities Litigation Reform Act of 1995. These forward-looking statements are based on our management's expectations, projections and beliefs at the time regarding matters including, among other things, future revenues and costs, financial performance, technology changes, capacity, utilization rates, yields, process and geographical diversification, future expansion plans and business strategy. Such forward looking statements are subject to a number of known and unknown risks and uncertainties that can cause actual results to differ materially from those expressed or implied by such statements, including risks related to the flat panel display industry, the TFT-LCD market, acceptance of and demand for our products, technological and development risks, competitive factors, and other risks described in the section entitled "Risk Factors" in our Annual Report on Form 20-F filed with the United States Securities and Exchange Commission on March 27, 2020. In addition, our SEC reports, including our Annual Report on Form 20-F contains other information on these and other factors that could affect our financial results and cause actual results to differ materially from any forward-looking information we may provide. We undertake no obligation to update or revise any forward-looking statements to reflect subsequent events, new information or future circumstances.
For more information, please contact:
Public Communication Dept.
Jessie Lee Tel: +886-3-5008800 ext 3206 Email : jessie.jc.lee@auo.com
Katie Chen Tel: +886-3-5008800 ext 3615 Email : katie.chen@auo.com