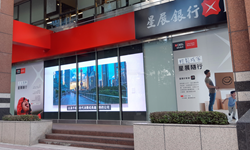 HSINCHU, Taiwan (PRWEB) December 31, 2020
AU Optronics Corp. ("AUO" or the "Company") has leveraged its group's profound software and hardware integration capacity in the financial sector, and teamed up with Space4Money, the Company's wholly-owned subsidiary specializing in smart retail integrated solutions, to implement a new digital marketing solution for DBS Bank (Taiwan) Songren Branch, a model branch for the bank's bilingual service initiative. The digital marketing solution transformed the conventional window display for posters into an ultra large 253-inch LED video wall, delivering a whole new visual experience for visitors, helping to strengthen DBS Bank (Taiwan)'s overall brand communication efforts.
"We are delighted to work with DBS Bank (Taiwan) on this project by leveraging AUO group's years of experience and strengths in the digital content management system, coupled with excellent display core technology for software and hardware integration to devise innovative digital marketing solutions for DBS Bank (Taiwan) Songren Branch," said Andy Yang, AUO's Vice President of Strategic Investment & New Business Operations. "In the future, AUO will continue to leverage group resources and ecosystem partners to develop diverse verticals, supporting customers in the financial sector to create a more intelligent and friendly service environment."
"The launch of this ultra-large video wall at DBS Bank (Taiwan) Songren Branch represents another successful environmental, social and governance (ESG) collaboration between AUO and DBS Bank (Taiwan) since Taiwan's first sustainability-linked loan was achieved," General Manager of DBS Bank (Taiwan), LIM Him Chuan said. "We hope that by upgrading the whole digital marketing solutions, the Songren Branch will be able to exercise its bilingual strengths and deliver the latest information to our customers in a digital and more eco-friendly way, while achieving instant and more effective communications."
The LED video wall at DBS Bank (Taiwan) Songren Branch adopts AUO Group's software and hardware integration solutions. Different from the conventional design where a single large LED panel is used, this video wall combines five separate LED panels which are tightly attached to the windows to form an immense video wall that is 5.6-meter wide and 3.2-meter high. In addition to saving more energy and indoor space, the video wall comes with a software platform technology that optimizes the visual experience by reducing graphics and text distortion along the panel glass borders caused by the conventional way of joining separate LED panels. Owners can also easily create and manage digital marketing materials remotely on the cloud platform by using a superior content management system that comes with the digital marketing solution.
AUO sees financial sector as one of its focus in smart verticals and has already introduced its digital signage and software and hardware integration solutions in over 4,300 bank branches across the U.S. and Europe through its subsidiaries including Space4Money in Taiwan and JohnRyan and ComQi in the U.S. In the future, AUO will continue to work with its customers and partners on building smart commercial and industrial IoT ecosystems to seize the new business opportunities of digital transformation in each vertical with maximum synergy.
AUO photos can be downloaded at the Company's website:
https://auo.com/en-global/Download_Photos
Any use of photographs must cite the source thereof as AU Optronics Corporation.
ABOUT AU OPTRONICS
AU Optronics Corp. ("AUO") is one of the world's leading providers of optoelectronic solutions. Based on its profound R&D and manufacturing experience, AUO offers a full range of display applications and smart solutions integrating software and hardware, and leverages its core expertise to enter new business areas such as solar, smart retail, general health, circular economy and smart manufacturing service. Additionally, AUO has also been named to the Dow Jones Sustainability World Index since 2010. AUO's consolidated net revenues in 2019 were NT$268.79 billion. For more information, please visit AUO.com.
Safe Harbour Notice
AU Optronics Corp. ("AUO" or the "Company"), a global leader of TFT-LCD panels, today announced the above news. Except for statements in respect of historical matters, the statements contained in this Release include "forward-looking statements" as defined in the Private Securities Litigation Reform Act of 1995. These forward-looking statements are based on our management's expectations, projections and beliefs at the time regarding matters including, among other things, future revenues and costs, financial performance, technology changes, capacity, utilization rates, yields, process and geographical diversification, future expansion plans and business strategy. Such forward looking statements are subject to a number of known and unknown risks and uncertainties that can cause actual results to differ materially from those expressed or implied by such statements, including risks related to the flat panel display industry, the TFT-LCD market, acceptance of and demand for our products, technological and development risks, competitive factors, and other risks described in the section entitled "Risk Factors" in our Annual Report on Form 20-F filed with the United States Securities and Exchange Commission on March 27, 2020. In addition, our SEC reports, including our Annual Report on Form 20-F contains other information on these and other factors that could affect our financial results and cause actual results to differ materially from any forward-looking information we may provide. We undertake no obligation to update or revise any forward-looking statements to reflect subsequent events, new information or future circumstances.
For more information, please contact:
Public Communication Dept.
Jessie Lee Tel: +886-3-5008800 ext 3206 Email : jessie.jc.lee@auo.com
Katie Chen Tel: +886-3-5008800 ext 3615 Email : katie.chen@auo.com