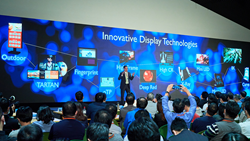 HSINCHU, Taiwan (PRWEB) October 17, 2020
The COVID-19 pandemic has accelerated the pace of digital transformation for the entire industry. Innovative fusion of 5G, AI and display technologies is now crucial for turning crisis into opportunity in the post-pandemic era. At AUO, the focus on value transformation in recent years has led to increased emphasis on sharing, co-creation and co-prosperity. In hosting the "AUO Tech Forum 2020" today, AUO sent out a call to industry experts and partners from different sectors to join in exploring the boundless possibilities across smart verticals.
The latest AUO Tech Forum looked at key trends in applications and concentrated on four main themes: "smart healthcare", "smart retail", "smart transportation", and "smart manufacturing." The forum was attended by over 300 industry representatives with more than 20 experts and key partners invited to share their experience in each field. The speakers also discussed industry prospects and future trends. AUO President and COO Frank Ko started off with a description of the value transformation strategy and roadmap for smart verticals development. Advanced display technologies suitable for different spaces as well as integrated software-hardware solutions from AUO partners were also showcased at the venue, demonstrating AUO's determination as well as preliminary results in an effort to proactively develop "field economy."
Industry and government leaders gave presentations on 5G, AI and smart living that make up the building blocks of digital transformation. Jim Liu, Chairman of ADLINK, the leading global supplier of industrial computers, chose "The Edge is Coming" as his subject for discussing trends in AI development; Eric Li, Vice President of Far EasTone Telecommunications, examined innovative applications in the 5G era; Dr. Zse-hong Tsai, Executive Secretary, Office of Science and Technology, Executive Yuan, spoke at length on the action plans derived from the "Smart Living Display Technology and Application Industry Strategy Review Board Meeting (SRB)" to realize the vision of "Smart Living in Taiwan 2030."
In his opening speech, AUO Chairman and CEO Paul Peng said that digital transformation is closely-connected to smart applications. Displays are critical to communication success between man and machine. The value of displays will naturally be re-defined once they are applied to smart verticals, and have their value enhanced once integrated with diverse spaces, serving as a pillar of the "AUO NEXT" transformation strategy. This is the first time that this forum is held since AUO engaged itself in value transformation and field economy. In addition to a sharing of experience from the AUO team, business partners from different sectors were also invited to join the in the celebrations. We hope that the sharing of each other's contributions and growth will help AUO take advantage of this new wave of opportunities in the industry.
AUO President and COO Frank Ko gave a speech on "Innovative Display x Smart Verticals - Co-creating Industry Eco-System." According to Ko, AUO has many years of experience in the display industry. It has therefore established a commanding lead in both the technology and application. In the foreseeable future of "Display Everywhere 2.0" one of the biggest challenges is how displays, spaces and advanced IT technology such as 5G and AI can be combined perfectly together. AUO has set itself three key missions amidst the digital transformation. On the technology front, AUO plays the role of "Enabler", and will continue to draw upon past experience to join our customers and partners as "Contributor" to share in the profits and the glory. AUO will maintain its openness and sharing so that it can become the optimal "Partner" for everyone. By supporting, cooperating and creating value together, a complete eco-system across smart verticals can be created.
As pioneering technologies such as 5G and AI become more widespread, AUO hopes to draw upon its many years of experience and resources to support everyone targeting at the opportunities from smart verticals. AUO will work hand-in-hand with its eco-system partners and sail far in the ocean of future opportunities, discovering the best solutions possible for diverse smart verticals.
AUO photos can be downloaded at the Company's website:
https://auo.com/en-global/Download_Photos
Any use of photographs must cite the source thereof as AU Optronics Corporation.
ABOUT AU OPTRONICS
AU Optronics Corp. ("AUO") is one of the world's leading providers of optoelectronic solutions. Based on its profound R&D and manufacturing experience, AUO offers a full range of display applications and smart solutions integrating software and hardware, and leverages its core expertise to enter new business areas such as solar, smart retail, general health, circular economy and smart manufacturing service. Additionally, AUO has also been named to the Dow Jones Sustainability World Index since 2010. AUO's consolidated net revenues in 2019 were NT$268.79 billion. For more information, please visit AUO.com.
Safe Harbour Notice
AU Optronics Corp. ("AUO" or the "Company"), a global leader of TFT-LCD panels, today announced the above news. Except for statements in respect of historical matters, the statements contained in this Release include "forward-looking statements" as defined in the Private Securities Litigation Reform Act of 1995. These forward-looking statements are based on our management's expectations, projections and beliefs at the time regarding matters including, among other things, future revenues and costs, financial performance, technology changes, capacity, utilization rates, yields, process and geographical diversification, future expansion plans and business strategy. Such forward looking statements are subject to a number of known and unknown risks and uncertainties that can cause actual results to differ materially from those expressed or implied by such statements, including risks related to the flat panel display industry, the TFT-LCD market, acceptance of and demand for our products, technological and development risks, competitive factors, and other risks described in the section entitled "Risk Factors" in our Annual Report on Form 20-F filed with the United States Securities and Exchange Commission on March 27, 2020. In addition, our SEC reports, including our Annual Report on Form 20-F contains other information on these and other factors that could affect our financial results and cause actual results to differ materially from any forward-looking information we may provide. We undertake no obligation to update or revise any forward-looking statements to reflect subsequent events, new information or future circumstances.
For more information, please contact:
Corporate Communication Division
Jessie Lee Tel: +886-3-5008800 ext 3206 Email : jessie.jc.lee@auo.com
Katie Chen Tel: +886-3-5008800 ext 3615 Email : katie.chen@auo.com