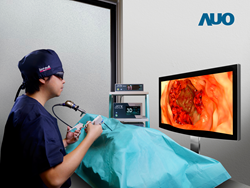 HSINCHU, Taiwan (PRWEB) December 03, 2020
Issued by: AU Optronics Corp.
Issued on: December 2, 2020
Hsinchu, Taiwan, December 2, 2020–
The integration of technology and medical care has become even closer in the post-pandemic era, and the pace of smart transformation is accelerating in the medical care industry. As part of its focus on the smart medical care sector, AUO will showcase its premium 3D surgical display solutions at the Healthcare Expo Taiwan at the Nangang Exhibition Center in Taipei from December 3 to 6. These AUO-developed solutions include the 32-inch 4K polarized 3D display solution integrated with MedicalTek's world-leading 3D endoscope and minimally invasive surgery (MIS) visualization system, and a 15.6-inch 4K naked-eye 3D display with AUO's proprietary eye-tracking system for use in surgery rooms. AUO also leads the industry(*) in presenting the 32-inch 4K hyper-realistic surgical display set equipped with medical-grade mini LED technology, and a range of medical panel computers designed for medical institutions in partnership with ADLINK, all demonstrating AUO's accumulated strengths over the years to help accelerate the transformation of the medical care industry.
Expertise in High-end 3D Display Technology Taking Surgical Applications to the Next Level
AUO has years of profound experience in the development of 3D display technologies. The history goes back to the times of polarized 3D TV LCDs, large 3D interactive gaming displays, and naked-eye 3D display technologies for a variety of applications, many of which were the industry's firsts and represented key technological milestones. Newly developed 3D display technologies are now introduced for surgical applications. The 32-inch 4K polarized 3D display solution to be exhibited represents an integration of AUO's latest 3D display technology with the advanced 2D-to-3D stereoscopic endoscopy visualization technology developed by MedicalTek. Its use with MedicalTek's DARWIN®3D endoscopy visualization system provides physicians with stereoscopic imagery that incorporates depth of view information. The improvement to hand-eye coordination effectively enhances the precision and quality of minimally invasive surgeries. The 15.6-inch 4K naked-eye 3D display also developed for use in surgery rooms incorporates AUO's proprietary eye-tracking system to effectively increase the 3D field of view and image quality. Physicians can then view crystal-clear 3D imagery from different angles during surgery without wearing 3D glasses to quickly establish the relative position and depth of organs and tissues.
High-end Medical Displays with High Resolution and Mini LED Backlighting Leading the Charge
The 32-inch 4K hyper-realistic surgical display set will also be showcased for the first time at the expo. AUO's medical-grade mini LED driver technology with the highest zone-count, along with advanced Deep Red technology for optimized display of red colors provide physicians with the most realistic colors and details. Improved distinction between minute differences in human body tissue and blood will help physicians make more accurate judgment. To meet the infection prevention and control needs in non-contact or multi-field applications in the post-pandemic era, AUO's high resolution, low reflection and touch technologies have now been applied to a range of All-in-One (AIO) hygienically-designed medical panel computers and monitors launched by ADLINK, the global leader in industrial computers. The screwless, fanless, fully sealed aluminum housing and anti-bacterial coating on ADLINK hygienically-designed medical panel computers satisfy the highest health standards. The easy and faster cleaning and disinfection procedures help ensure the safety of patients and operators. The medical-grade touch displays have edge-to-edge glass surface and on-screen buttons that can be operated with gloved hands and are resistant to bacteria to prevent transmission of infections.
AUO is focusing on the smart medical care sector and actively investing in the development of user-centric medical-grade displays that solve the pain points of users in the field. AUO is now one of the top three global suppliers for applications such as medical-grade displays and X-ray sensors, with products extensively adopted by international medical device makers. AUO's future strategy in the smart medical care market will focus on three areas: surgery room, medical management and medical testing. Professional display technologies will underpin the integration of pioneering AI and 5G technologies, while partnerships with customers and partners will serve to drive the smart transformation of the medical care sector. The progressive refinement of the field eco-system will enable the continued delivery of even better medical services to the general public.

Based on the available market research information as of December 2, 2020.
AUO photos can be downloaded at the Company's website:
https://auo.com/en-global/Download_Photos
Any use of photographs must cite the source thereof as AU Optronics Corporation.
ABOUT AU OPTRONICS
AU Optronics Corp. ("AUO") is one of the world's leading providers of optoelectronic solutions. Based on its profound R&D and manufacturing experience, AUO offers a full range of display applications and smart solutions integrating software and hardware, and leverages its core expertise to enter new business areas such as solar, smart retail, general health, circular economy and smart manufacturing service. Additionally, AUO has also been named to the Dow Jones Sustainability World Index since 2010. AUO's consolidated net revenues in 2019 were NT$268.79 billion. For more information, please visit AUO.com.
Safe Harbour Notice
AU Optronics Corp. ("AUO" or the "Company"), a global leader of TFT-LCD panels, today announced the above news. Except for statements in respect of historical matters, the statements contained in this Release include "forward-looking statements" as defined in the Private Securities Litigation Reform Act of 1995. These forward-looking statements are based on our management's expectations, projections and beliefs at the time regarding matters including, among other things, future revenues and costs, financial performance, technology changes, capacity, utilization rates, yields, process and geographical diversification, future expansion plans and business strategy. Such forward looking statements are subject to a number of known and unknown risks and uncertainties that can cause actual results to differ materially from those expressed or implied by such statements, including risks related to the flat panel display industry, the TFT-LCD market, acceptance of and demand for our products, technological and development risks, competitive factors, and other risks described in the section entitled "Risk Factors" in our Annual Report on Form 20-F filed with the United States Securities and Exchange Commission on March 27, 2020. In addition, our SEC reports, including our Annual Report on Form 20-F contains other information on these and other factors that could affect our financial results and cause actual results to differ materially from any forward-looking information we may provide. We undertake no obligation to update or revise any forward-looking statements to reflect subsequent events, new information or future circumstances.
For more information, please contact:
Corporate Communication Division
Jessie Lee Tel: +886-3-5008800 ext 3206 Email : jessie.jc.lee@auo.com
Katie Chen Tel: +886-3-5008800 ext 3615 Email : katie.chen@auo.com