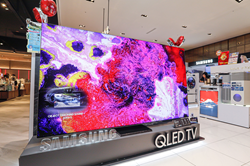 HSINCHU, Taiwan (PRWEB) July 29, 2020
With the stay-at-home economy thriving in the post-pandemic era, boosting people's time spent on home entertainment and leading TVs to become higher in resolution, larger size and even more stylish, AU Optronics Corp. ("AUO" or the "Company") has met viewers' demand for uncompromising image quality and sensory experience by leading to introduce of a series of 65 to 85-inch 8K bezel-less TV displays and partnered with global consumer electronics giants to enter the premium home electronics market, amazing viewers through immense screens with a screen-to-body ratio close to 100%, providing an immersive and compelling visual sensation.
Best mix of novel display technologies presenting true-to-life details
AUO continues to innovate and advance its display technologies, demonstrating its solid leadership position through the 8K bezel-less TV displays. Equipped with 8K (7,680 x 4,320) ultra-high resolution 16 times higher than that of full HD and quantum dot wide color gamut, the displays have color saturation reaching 90% of the Rec. 2020 color gamut. The accurate and wide color range with extremely fine image details fully demonstrate the advantages of large-sized 8K TV displays. Coupled with a special next-generation light guide film, the display viewing angle will no longer be restricted, boasting uniform color performance with impressive nuance and depth at close range even when viewers are not centered in front of the TV.
Smart TVs have nowadays gone beyond just broadcasting to become a hub for gaming and streaming media. As such, AUO's 8K bezel-less TV displays possess 120Hz high refresh rate that satisfies the requirement of sports events and gaming, delivering smooth and high image quality without motion blur. By applying AUO's proprietary pixel design with high transmittance, the displays can achieve the same HDR level with reduced use of backlight, achieving peak brightness of up to 1,200 nits. The displays not only reveal outstanding contrast, capture details in both bright and dim zones, but also recognize global trends for energy efficiency.
Edge-to-edge boundless outlook perfecting modern home design
Going bezel-less proves to be a major challenge for large-sized displays, especially for bezel sturdiness and product stability to be maintained. AUO has achieved breakthroughs in sealant coating, glass substrate cutting and polarizer attaching during the manufacturing process. Through an effective integration of designs, AUO successfully produces black matrix less than 1mm in width, delivering the world's highest(*) screen-to-body ratio of near 100%. Eliminating the black bezels of a traditional TV and minimalizing its gap against the wall, the bezel-less display blends almost seamlessly into its surroundings. In addition to TVs, the bezel-less technology can also be applied to commercial signage of various forms and shapes to merge effortlessly with the surroundings, upgrading the design in both aesthetic and functional sense. Such applications are expected to be widely introduced in diverse smart verticals in the future.

Based on the available market research information as of July 28, 2020.
AUO photos can be downloaded at the Company's website:
https://auo.com/en-global/Download_Photos
Any use of photographs must cite the source thereof as AU Optronics Corporation.
###
ABOUT AU OPTRONICS
AU Optronics Corp. ("AUO") is one of the world's leading providers of optoelectronic solutions. Based on its profound R&D and manufacturing experience, AUO offers a full range of display applications and smart solutions integrating software and hardware, and leverages its core expertise to enter new business areas such as solar, smart retail, general health, circular economy and smart manufacturing service. Additionally, AUO has also been named to the Dow Jones Sustainability World Index since 2010. AUO's consolidated net revenues in 2019 were NT$268.79 billion. For more information, please visit AUO.com.
Safe Harbour Notice
AU Optronics Corp. ("AUO" or the "Company"), a global leader of TFT-LCD panels, today announced the above news. Except for statements in respect of historical matters, the statements contained in this Release include "forward-looking statements" as defined in the Private Securities Litigation Reform Act of 1995. These forward-looking statements are based on our management's expectations, projections and beliefs at the time regarding matters including, among other things, future revenues and costs, financial performance, technology changes, capacity, utilization rates, yields, process and geographical diversification, future expansion plans and business strategy. Such forward looking statements are subject to a number of known and unknown risks and uncertainties that can cause actual results to differ materially from those expressed or implied by such statements, including risks related to the flat panel display industry, the TFT-LCD market, acceptance of and demand for our products, technological and development risks, competitive factors, and other risks described in the section entitled "Risk Factors" in our Annual Report on Form 20-F filed with the United States Securities and Exchange Commission on March 27, 2020. In addition, our SEC reports, including our Annual Report on Form 20-F contains other information on these and other factors that could affect our financial results and cause actual results to differ materially from any forward-looking information we may provide. We undertake no obligation to update or revise any forward-looking statements to reflect subsequent events, new information or future circumstances.
For more information, please contact:
Public Communication Dept.
Jessie Lee Tel: +886-3-5008800 ext 3206 Email : jessie.jc.lee@auo.com
Katie Chen Tel: +886-3-5008800 ext 3615 Email : katie.chen@auo.com