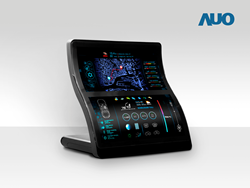 HSINCHU, Taiwan (PRWEB) August 06, 2020
In 2020, COVID-19 has severely impacted global economy; however, it also catalyzed opportunities in medical, stay-at-home economy and telecommuting applications. Affected by the pandemic, SID Display Week 2020 will be held online instead of physical exhibition. AU Optronics Corp. (AUO) will be joining to demonstrate a complete series of advanced display technologies, such as lightweight flexible x-ray detector with high pixel density for mobile medical care during the pandemic. Driven by stay-at-home entertainment demands, a full range of gaming displays with ultra high refresh rate also plays as a highlight of AUO product lineup, bringing gamers the maximum excitement with zero latency.
Pioneering the next generation display technology, AUO will present a complete series of full color TFT driven micro LED automotive displays. AUO is the first in the industry(*) to adopt flexible micro LED technology to automotive applications to maximize the advantages of traffic information image quality and flexibility of car interior design. Featuring high contrast, wide color gamut, high refresh rate and compact form factor, the 17.3-inch OLED panel developed by ink jet printing technology can efficiently decrease production cost and improve material utilization and is the advanced green manufacturing technology drawing the most attention.
High Resolution, High Contrast and Wide Color Gamut Medical Displays Realize Accurate Diagnoses
Entering the post-pandemic era, the requirement of high quality medical image is further reinforced. AUO's comprehensive portfolio of medical displays supports ultrasonic, imaging modality, endoscopic and surgeries. Incorporating with TFT manufacturing advantages, AUO further develops the high quality flexible X-ray detector to realize high quality imaging with a low dose of radiation through AUO's unique photoelectric conversion technology. Compared with traditional films, this technology can significantly decrease the radiation dose absorbed by human body, and its other features including lightweight, flexible and impact resistance allow the flexible x-ray substrate to substantially enhance the convenience of timely mobile medical services.
AUO is the first in the world(*) to develop the 32-inch surgical display using mini LED backlight technology. To achieve a true black screen as well as meet surgical demands of high brightness and ultra-high contrast, this display is designed with the industry-leading 2,304 local dimming zones. Its true black screen allows surgeons to fully focus on the target when performing minimally invasive operations like endoscope and laparoscopy. The color gamut is optimized to faithfully reveal layers of human tissue and blood as well as subtle differences. The 21.3-inch true portrait medical display engineered with high brightness, high contrast and narrow bezel realizes the smooth performance of continuous grayscale image and can be applied to radiation medicine and mammography to facilitate accurate diagnoses.
Gaming Display with Ultra-high Refresh Rate Takes Entertainment to New Heights
While the stay-at-home economy drives the emergence of gaming industry, the refresh rate of gaming displays has also been significantly improved. AUO will unveil the 17.3-inch mini LED Full HD gaming laptop display with the world's highest(*) 300Hz refresh rate and 27-inch QHD 240Hz gaming monitor display with ultra-high refresh rate, having successfully overcome the conventional trade-off between image quality and speed to realize a clear and smooth dynamic image. Another 17.3-inch UHD 4K gaming laptop display incorporates mini LED backlight and ultra high refresh rate to show an exquisite image of VESA DisplayHDR1000 level, clearly presenting all details in dark areas and allowing the gamer to seize the speed to dominate racing and FPS games.
Amid the booming stay-at-home economic trends, Smart TVs have nowadays gone beyond just broadcasting to becoming a hub for gaming and streaming media. AUO's 8K bezel-less TV displays integrate 120Hz high refresh rate, 8K (7,680 x 4,320) ultra-high resolution, quantum dot wide color gamut and advanced HDR technology to amaze viewers through immense screens that satisfies the requirement of sports events and gaming, delivering smooth and high image quality.
For business people demanding mobility, AUO launches 14-inch switchable laptop display implementing its unique adjustable backlight technology to provide sufficient black level at a viewing angle larger than 45 degrees. The user can set the screen to private mode with only one key to ensure information security.
The Next Generation Display Technology Shapes the Future of Smart Automotive Applications
Through continuous development of cutting-edge technologies, AUO is the first in the industry(*) to introduce flexible micro LED with high resolution to automotive displays. AUO will showcase a display for CID application, consisting of two 9.4-inch panels combined to realize the exquisite high dynamic contrast ratio as well as highly saturated and brilliant colors with an ultra high pixel density of 228PPI. The S-curve enables the display to seamlessly integrate into the streamline automotive interior design. Composed of 12.1-inch micro LED cluster display and 12.1-inch CID display, another V-shaped vehicle cockpit display implementing full color TFT driven micro LED technology features high brightness, ultra high contrast, wide color gamut and high pixel density to allow the driver to read important traffic information at any time and create a more intuitive driving experience.
AUO also applies advanced technologies to smart retail and transportation, including TARTAN display technology implementing native photomask manufacturing process for industrial grade of production quality, offering customizable ratio and sizes, such as square, round and bar types. Among these, the world's largest(*) 23.6-inch diameter of double-sided round display, shapes the most eye-catching landscape whether being used to play product advertisement or as a commercial signage. Meanwhile, AUO's 1.6-inch portable TFT fingerprint scanner with the world's highest(*) pixel density of 1,000 PPI accurately recognizes fingerprints as small as children's size, as well as meet the demand of a higher level of biometric and security for the customs and the police.
During SID Display Week 2020, AUO President and COO Frank Ko will deliver an online speech at PDT 8:00 a.m., August 7th, titled "Post-pandemic Era: Display Innovations in the New Normal Economy" to explain how the "new normal" of job, life, consumption and industry developed in post-pandemic era, and how the combination of 5G, AI and novel display technologies provide complete solutions.
*Register now at Display Week 2020 to visit AUO's virtual booth:
http://www.displayweek.org/2020/Attendee/Registration.aspx
*Click on the links below to view video footages of AUO's innovative display technologies:
8K TV – Highest Screen-to-body Ratio Bezel-less Display
https://www.youtube.com/watch?v=8CFMJP8ro-Q
Mini LED – High Performance Gaming Displays
https://www.youtube.com/watch?v=el4yikuFwSQ
Micro LED – The Ultimate Display Technology
https://www.youtube.com/watch?v=h1ApVYJJaA4
Smart Retail – TARTAN Display Tech with Customizable Shapes and Sizes
https://www.youtube.com/watch?v=cnLVMG1Tw2U
Smart Medical Treatment – Highly Specialized Medical Displays
https://www.youtube.com/watch?v=tHujmu9AfyA
Smart Security – Specialized Technologies for Privacy and Security Purposes
https://www.youtube.com/watch?v=0_1XXwm9GVs
*Based on the available market research information as of August 5, 2020.
AUO photos can be downloaded at the Company's website:
https://auo.com/en-global/Download_Photos
Any use of photographs must cite the source thereof as AU Optronics Corporation.
ABOUT AU OPTRONICS
AU Optronics Corp. ("AUO") is one of the world's leading providers of optoelectronic solutions. Based on its profound R&D and manufacturing experience, AUO offers a full range of display applications and smart solutions integrating software and hardware, and leverages its core expertise to enter new business areas such as solar, smart retail, general health, circular economy and smart manufacturing service. Additionally, AUO has also been named to the Dow Jones Sustainability World Index since 2010. AUO's consolidated net revenues in 2019 were NT$268.79 billion. For more information, please visit AUO.com.
Safe Harbour Notice
AU Optronics Corp. ("AUO" or the "Company"), a global leader of TFT-LCD panels, today announced the above news. Except for statements in respect of historical matters, the statements contained in this Release include "forward-looking statements" as defined in the Private Securities Litigation Reform Act of 1995. These forward-looking statements are based on our management's expectations, projections and beliefs at the time regarding matters including, among other things, future revenues and costs, financial performance, technology changes, capacity, utilization rates, yields, process and geographical diversification, future expansion plans and business strategy. Such forward looking statements are subject to a number of known and unknown risks and uncertainties that can cause actual results to differ materially from those expressed or implied by such statements, including risks related to the flat panel display industry, the TFT-LCD market, acceptance of and demand for our products, technological and development risks, competitive factors, and other risks described in the section entitled "Risk Factors" in our Annual Report on Form 20-F filed with the United States Securities and Exchange Commission on March 27, 2020. In addition, our SEC reports, including our Annual Report on Form 20-F contains other information on these and other factors that could affect our financial results and cause actual results to differ materially from any forward-looking information we may provide. We undertake no obligation to update or revise any forward-looking statements to reflect subsequent events, new information or future circumstances.
For more information, please contact:
Public Communication Dept.
Jessie Lee
Tel: +886-3-5008800 ext 3206
Email: jessie.jc.lee@auo.com
Katie Chen
Tel: +886-3-5008800 ext 3615
Email: katie.chen@auo.com