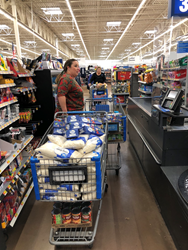 "For the 15 years I've worked with Auro Hotels, I've always been treated as family. So, when our family members were in need, we jumped in with all the love and support we could give." - Auro Associate, Melissa Rosewarne
GREENVILLE, S.C. (PRWEB) June 04, 2020
Auro Hotels celebrates three ongoing charitable initiatives by their corporate and hotel associates during the Covid-19 pandemic and recognizes the love and generosity demonstrated to teammates and their communities. From organizing food donations for furloughed associates, to delivering 5-star hotel meals to hospitalized Covid-19 patients, the spirit of caring for each other is inspirational.
When associates heard about the needs of their furloughed teammates, they responded immediately with their 'Connecting with Families' initiative, raising $15,000+ in just five days. Over 1,300 food packages were assembled and distributed to associates from Auro's Marriott, Hilton and Hyatt hotels in more than 10 cities, with future donations scheduled.
"For the 15 years I've worked with Auro Hotels, I've always been treated as family," Auro corporate associate Melissa Rosewarne said. "So, when our family members were in need, we jumped in with all the love and support we could give."
Auro associates are also caring for each other through the COVID-19 Beacon Fund Campaign. The campaign is fully funded by associates and provides cash support, paid time off and gift cards for their Auro family members experiencing trying times. This initiative is available to both active and furloughed associates and designed to help colleagues meet their basic needs and take care of loved ones.
Hospitality has no borders as proven by associates from Auro's Marriott hotels in India. Demonstrating their passion to serve, hotel associates are seeking consultation with local doctors and providing 500 meals every single day to COVID-19 affected patients and to healthcare workers in Surat Municipal Corporation's local hospital. To thank those on the frontlines in their communities, hotel associates are also delivering over 100 meals every day to local police authorities and volunteers.
Donations from associates are matched 100% by Auro President DJ Rama, doubling the funds for assistance. "The generosity of our Auro family members is remarkable", Rama said. "It is overwhelming to see the compassion and love they are showing to each other during these challenging times for our company, the hotel industry and the world."
###
About Auro Hotels: Based in Greenville, SC with additional offices in Atlanta and Surat, Auro Hotels has developed, owned, and operated hotels for 47 years. The company currently owns and operates 35 hotels with over 6,450 guestrooms, located in the United States and India, operating under such well-known brands as Marriott, Hilton and Hyatt.