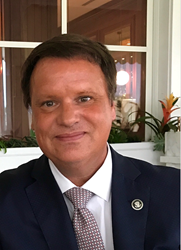 Austin, Texas (PRWEB) October 11, 2017
Tax reform expert and CEO of Engineered Tax Services, Julio Gonzalez, is one of 74 nominees for Austin Business Journal's 2017 Best CEO Awards, presented by American Bank. This award celebrates CEOs in the Central Texas area who represent leadership, innovation, and performance.
The CEOs will be celebrated Wednesday evening at a reception at the W Hotel. The winners, to be chosen by a panel of judges including former Best CEO club alumni, will be announced after the reception. The evening will also include the presentation of the Best CEO Legacy Award. You can see the 74 nominees here. Recipients will also be featured in a special section of the Austin Business Journal Wednesday in print and online.
About Julio Gonzalez
Mr. Gonzalez founded the Gonzalez Family Office and is the CEO and Founder of Engineered Tax Services, Inc. (ETS). ETS is the country's largest specialty tax engineering firm which specializes in the preservation of wealth and United States' job creation through IRS engineering-based services to include research and development manufacturing tax credits, energy tax incentives studies, cost segregation deprecation studies for buildings, and disposition studies. Mr. Gonzalez started ETS in 2001 to bring specialized engineering tax studies to mainstream America, which have historically only available to the Fortune 500 companies through the Big 4 National Accounting Firms. ETS has 16 offices nationally – one being in Texas - and is headquartered in West Palm Beach, Florida.
In addition to ETS, Mr. Gonzalez started several other family operational companies including his family office, Gonzalez Family Office (GFO), Calle Gato Ocho (CGO), Engineered Venture Services (EVS) and Engineered Family Office (EFO). Gonzalez Family Office manages the Gonzalez family capital by investing primarily in real estate, private equity and venture capital. CGO owns and operates direct real estate investments in multi-family housing and office/mixed use real estate for the Gonzalez family. EVS was started to provide high-level due diligence in venture capital investing at affordable costs through the application of Prado principles. EFO provides a multi-family office environment for high end athletes and top entrepreneurs.
Mr. Gonzalez works weekly in Washington D.C. to advise on tax reform and is the go-to tax expert representing Hispanic 100, Hispanic Council, and family offices. He is a regular public speaker on a national level regarding tax reform and tax sophistication for wealth preservation.
For more information about Mr. Julio Gonzalez, please visit EngineeredTaxServices.com.