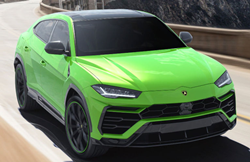 AUSTIN, Texas (PRWEB) September 23, 2020
With the latest Lamborghini models coming to dealers, Lamborghini Austin is offering its showroom to drivers who are looking for a world class driving experience. Inside their showroom there are several vehicles that offer exceptional performance and personalized interior features. However, not every Lamborghini vehicle available is waiting for interested drivers inside the Lamborghini Austin showroom. That does not mean that drivers won't find what they've been looking for. Lamborghini Austin is now offering the Lamborghini Urus Peal Capsule to drivers.
When shoppers speak with the professionals of Lamborghini Austin, they can reserve a new Lamborghini Urus Pearl Capsule and have it delivered right to the showroom. From there, drivers can ask the specialists of Lamborghini Austin for a demonstration. This will help drivers understand how powerful the Urus Pearl Capsule is, how it can adapt to the road, and how its interior features can make drivers feel more relaxed on the road.
Drivers can also personalize their vehicle with the help of the specialists at Lamborghini Austin. The Lamborghini Urus Peal Capsule has many aspects that can be changed with the help of the Lamborghini Configurator. Shoppers can learn more about this process and personalize their ordered Urus Pearl Capsule to their needs with the help of Lamborghini specialists.
Interested readers can speak with professionals at Lamborghini Austin to learn more about the Lamborghini Urus Pearl Capsule by visiting the dealer website at lamborghiniaustin.com. Interested drivers can learn more about available Lamborghini vehicles when they visit the Lamborghini Austin showroom at 4108 North Lamar Blvd. Austin, TX 78756 or by calling the sales team at 833-331-0322 with any questions they have.