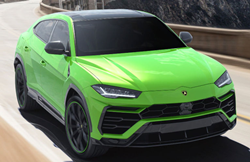 AUSTIN, Tex. (PRWEB) August 21, 2020
Lamborghini Austin is driven to provide shoppers with the key details of the latest Lamborghini vehicles so that interested shoppers can find exactly what they are looking for. On the Lamborghini Austin website, there are several web pages that exotic car shoppers can use to their advantage.
The Lamborghini Urus Pearl Capsule is the latest Lamborghini vehicle that is becoming available at dealerships around the country. The Lamborghini Urus Pearl Capsule offers new colors that are not available on the Lamborghini Urus. These colors include the Verde Mantis, a glossy green, the bright yellow Giallo Inti and the vibrant Arancio Borealis. These colors offer a dual exterior design that can add an exciting touch to this new exotic model.
The Lamborghini Urus Pearl Capsule also has high performance features to deliver the super in super sports utility vehicle. This model has an eight-cylinder engine that delivers 340 horsepower and can reach 60 miles per hour in 3.6 seconds. The Lamborghini Urus Pearl Capsule can also achieve a top speed of 189 miles per hour for drivers who want that fast-paced drive. This vehicle also has all-wheel drive to help you gain traction on the road for a smoother, more fluid drive.
Interested parties can learn more about the Lamborghini Urus Pearl Capsule by visiting the specific web page on the dealer website, lamborghiniaustin.com. Interested shoppers can also speak with the team of professionals on the questions they have about the Urus Pearl Capsule, or any of the other available Lamborghini models at Lamborghini Austin, by visiting the showroom located at 4108 North Lamar Blvd. Austin, TX 78756.