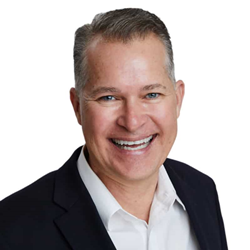 I built Broker Network Realty Inc. on the idea that 'Process leads to performance,' so when I discovered Side and its world-class tech and comprehensive support system, I knew it would be a game-changer for my clients and agents
AUSTIN, Texas (PRWEB) May 14, 2021
Chris S. Kappmeyer of Broker Network Realty Inc. today announced All Hands Real Estate and its partnership with Side, the only real estate technology company that exclusively partners with high-performing agents, teams, and independent brokerages to transform them into market-leading boutique brands and businesses. The alliance will ensure that All Hands Real Estate, a team driven to deliver client satisfaction, is powered by the most advanced platform in the industry.
All Hands Real Estate was founded by Kappmeyer, who has been a top-producing Realtor® and licensed broker serving the Austin area since 1990. An eminent advisor for clients buying and selling homes, Kappmeyer uses proven, repeatable processes to maximize his clients' results. His cornerstone is a unique, proprietary listing process that often commands a 5%-15% higher outcome than traditional Realtors®. Kappmeyer has been named among the Top 100 Realtors® in Austin, placing him in the city's top 6%.
Partnering with Side will ensure All Hands Real Estate remains on the cutting edge of the evolving real estate market while continuing to deliver premium services to its clients. Side works behind the scenes, supporting All Hands Real Estate with a one-of-a-kind brokerage platform that includes proprietary technology, transaction management, branding and marketing services, public relations, legal support, lead generation, vendor management, infrastructure solutions, and more. Additionally, All Hands Real Estate will join an exclusive group of Side partners, tapping into an expansive network from coast to coast.
"I built Broker Network Realty Inc. on the idea that 'Process leads to performance,' so when I discovered Side and its world-class tech and comprehensive support system, I knew it would be a game-changer for my clients and agents," said Kappmeyer. "I named the new brand All Hands Real Estate because we take an all-hands-on-deck approach to real estate. With Side working behind the scenes, we can fully focus on what matters most — building relationships with our clients, one home at a time, AND we can make sure we maximize our clients' results, whether getting the best price possible for their home or positioning them to win a bid on their dream home at the best possible price!"
Side is led by experienced industry professionals and world-class engineers who develop technology designed to improve agent productivity and enhance the client experience. Based on its belief that homeownership is a fundamental human right, Side is on a mission to improve the public good by providing top-performing real estate agents, teams, and indie brokerages with the best system, support, service, experience, and results.
About All Hands Real Estate
All Hands Real Estate builds meaningful, lasting relationships with clients one home at a time. Chris S. Kappmeyer and his full-time, licensed assistants deliver powerhouse service, fueled by their 60-plus years of combined experience and more than three decades of using proven, refined processes to benefit buyers and sellers throughout Austin and Central Texas. All Hands Real Estate guides clients of all price points, communicating promptly and working tirelessly to be their Realtors® for life. To learn more, visit http://www.allhandsrealestate.com.
About Side
Side transforms high-performing agents, teams, and independent brokerages into successful businesses and boutique brands that are 100% agent-owned. Side exclusively partners with the best agents, empowering them with proprietary technology and a premier support team so they can be more productive, grow their business, and focus on serving their clients. Side is headquartered in San Francisco. For more information, visit http://www.sideinc.com.