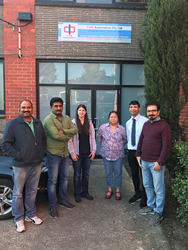 CAN Automotion provides end-to-end engineering solutions for control systems, including system design, architecture, programming, wiring, testing, debugging and fine tuning
MÖLNDAL, Sweden (PRWEB) August 09, 2018
Kvaser AB, the leading specialist in Controller Area Network (CAN) and related technologies, is pleased to announce that Australian mobile distributed controls specialist, CAN Automotion Pty Ltd., has joined Kvaser's qualified sales network. The CAN Automotion team, whose expertise extends into telematics and the Internet of Things, specializes in developing custom solutions involving CAN and the CANopen, J1939 and DeviceNet higher layer protocols, as well as Modbus, EtherCAT and Ethernet.
"CAN Automotion provides end-to-end engineering solutions for control systems, including system design, architecture, programming, wiring, testing, debugging and fine tuning," said Madhusudan Giri, company manager. "Given the size and remoteness of many areas of Australia, there's a great need for telematics/IIoT and datalogging solutions. We see the Kvaser Memorator as an offline datalogging device, so highly complementary to our online datalogging and Cloud solutions."
Commented Tammy Purdy, Managing Director of Kvaser USA: "CAN Automotion has an excellent reputation for customer service and technical support and is a valuable addition to our network, allowing us to better serve Australian Kvaser users. We look forward to a long and fruitful relationship."
CAN Automotion will stock a selection of Kvaser CAN interfaces and dataloggers, most notably, Kvaser's Professional CAN tools.
For more information on CAN Automotion's products and services, please visit here.
About Kvaser:
With 30 years of CAN development experience and more than 60 CAN-to-PC related products to its name, Kvaser AB (http://www.kvaser.com) is the CAN expert, bringing its deep knowledge in the field of CAN to industries that include Automotive, Avionics, Building Automation, Domestic Appliances, Hydraulic Equipment, Industrial Automation, Maritime, Medical, Military, Railway, Telecoms and Textiles.
A powerful and easy to use API that is common to all Kvaser interfaces has made Kvaser products popular among systems, as well as tool designers. Meanwhile, end users value Kvaser's high quality, reliability and comprehensive third-party support. OEM versions of Kvaser products are also available, making a cost-efficient alternative to in-house development for many companies.
Kvaser is headquartered in Mölndal, Sweden, with regional offices in Mission Viejo, CA in the United States, and in Shanghai, China. Kvaser AB also has a global network of highly knowledgeable Qualified Sales Representatives and Technical Associates. To find the nearest Kvaser supplier to you, please visit http://www.kvaser.com.