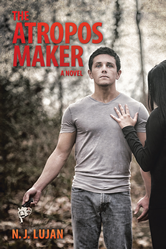 "The Atropos Maker" is a fast-paced and expertly plotted two-fisted political thriller focusing on corrupt international and domestic organizations, secret weapons, and conspiracies." – IndieReader
RALEIGH, N.C. (PRWEB) April 21, 2020
Author N.J. Lujan has released "The Atropos Maker," a gripping, high-stakes thriller that takes readers on a heart-pounding mission through the deceptive and debauched operations of covert government organization Atropos, where nothing is as it seems.
After a long hiatus from combat and clandestine missions, Norma returns to Atropos, the secret agency unit she helped establish over 20 years prior. However, the bizarre circumstances surrounding her first assignment fuels her suspicion that she is a pawn in a bigger game, one that is threatening her, the future of Atropos and someone close to her heart.
In writing "The Atropos Maker," Lujan drew from her own experience serving in the army. As a woman trained in Tactical Army Combat Systems, she felt strongly compelled to write a story with a strong female protagonist to pay tribute to the pivotal role women play in U.S. military and government agency success.
"The suspense in the book is irresistible," wrote Pacific Book Review in their Starred Review. "The author knows how to entice readers by introducing subplots which increase one's focus to finish the book . . . 'The Atropos Maker' is a great read for those who fancy thrillers, drama, conspiracy stories, military fiction and a great plot."
"'The Atropos Maker'" is a fast-paced and expertly plotted two-fisted political thriller focusing on corrupt international and domestic organizations, secret weapons, and conspiracies," wrote IndieReader in their 4.8-star review.
"What an exhilarating ride," wrote an Amazon reviewer. "Heart-pounding! I couldn't put it down. The author has expertly woven in mysterious threads and plenty of twists."
With themes of betrayal, survival, brotherhood and family, "The Atropos Maker" is an unforgettable introduction to an action-packed thriller series that will leave readers highly anticipating the forthcoming sequel.
"The Atropos Maker"
By N.J. Lujan
ISBN: 9781532090615(softcover); 9781532090622(hardcover);9781532090639(electronic)
Available from Amazon, Barnes & Noble, iUniverse and other online retailers.
About the author
N. J. Lujan, an accomplished author and ghost writer, lives in North Carolina and splits her time between writing, work and family. After serving in the Army, she enjoyed a successful corporate career while fueling a passion for creating complex fictional characters. To learn more, visit njlujanoffical.com.
Review Copies & Interview Requests:
LAVIDGE – Phoenix
Leslie Standridge
480-998-2600 x 586
lstandridge(at)lavidge(dot)com