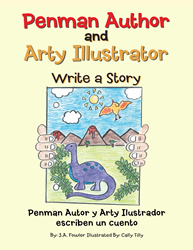 FORT WORTH, Texas (PRWEB) April 14, 2020
As schools across the country pivot to virtual learning environments, students are presented with a unique opportunity to grow their teamwork skills and overcome new challenges. In "Penman Author and Arty Illustrator Write a Story," J.A. Fowler demonstrates how students can work together to complete their coursework, even when they are physically distanced.
The book follows second-graders Penman Author and Arty Illustrator as they are partnered on a writing assignment in which they get to explore their favorite subject: dinosaurs. The boys are ecstatic to get started and plan to meet at the library to work on the project together.
However, Arty unexpectedly falls ill and is unable to join Penman at the library. As the boys rack their brains on how to finish the assignment before it's due, they come up with a brilliant solution that allows them to fairly divide their responsibilities and leverage their unique strengths to complete their story. Ultimately, the boys rise to the occasion, earning cheers from their fellow classmates and an A-plus grade.
With colorful, engaging illustrations and a positive message, "Penman Author and Arty Illustrator Write a Story" inspires children to approach their problems creatively and work closely with one another to develop a solution that benefits everyone. Additionally, the book contains side-by-side English and Spanish translations, allowing second language learners to grow their reading comprehension while learning a valuable lesson on teamwork.
"Penman Author and Arty Illustrator Write a Story"
By J.A. Fowler and illustrated by Cally Tilly
ISBN: 9781728311135 (softcover); 9781728311159 (hardcover); 9781728311142 (electronic)
Available from Amazon, Barnes & Noble and AuthorHouse
About the author
J.A. Fowler is the author of several children's books, including "What's the Point?" (2010), "Lilly's Faith" (2012) and "¡Pedro Ordaz No me deja en paz!" (2012). She is also an elementary teacher and has a rich history of educating children that come from various ethnic groups and cultures. Her books are colorful and educational with a tendency of capturing a child's attention and imagination. Fowler currently lives in Texas with her family. To learn more, please visit jafowlerauthor.com.
Review Copies & Interview Requests:
LAVIDGE – Phoenix
Leslie Standridge
480-998-2600 x 586
lstandridge(at)lavidge(dot)com