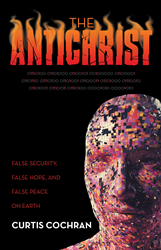 "Artificial intelligence has been brought into the world, given political prominence, and rights as a human, through personhood," Cochran said. "Artificial intelligence is likely currently or will be getting fed all human being's data, through every means of collection available."
PHOENIX, Ariz. (PRWEB) January 23, 2023
In this dystopic look at society's dependence on artificial intelligence, author Curtis Cochran cautions that the only hope is greater awareness and vigilance. He claims that false security, false hope, and false peace surround each decision to embrace advanced interactive technology.
In his book "Antichrist," Cochran shares his ideas about social engineering, incrementalism, and the true purpose behind data collection. While there is no stopping technology from advancing, he argues that gaining knowledge about what is taking place gives citizens some protection.
"Artificial intelligence has been brought into the world, given political prominence, and rights as a human, through personhood," Cochran said. "Artificial intelligence is likely currently or will be getting fed all human being's data, through every means of collection available."
Cochran became increasingly concerned about where technology was headed during his ten years in the field of information technology. The book examines how technology giants have overstepped boundaries by inserting themselves into almost every aspect of our lives. He acknowledges that it may be too late to stop what's going on, but people can learn what has occurred, who did it, when it happened and what will likely come next.
As reliance on smart devices increases and data collection is unbridled, Cochran suggests that this may be the perfect opportunity for the antichrist to reveal himself.
"The goal for this book is to warn people, prepare people, and be an account of what happened and what will happen in the future," said Cochran. "A non-believer in Christ would also be able to see the facts in this book and the likely outcome."
"The Antichrist"
By Curtis Cochran
ISBN: 9781664274648 (softcover); 9781664274655 (hardcover); 9781664274631 (electronic)
Available at WestBow Press, Amazon and Barnes & Noble
About the author
After many years of rebellion, Curtis Cochran came to Christ and saw his grace and forgiveness. Cochran spent 10 years in information technology (IT). As the time passed, more and more data was demanded. As a result, a career change became necessary. To learn more, please visit http://www.westbowpress.com/en/bookstore/bookdetails/841020-the-antichrist.